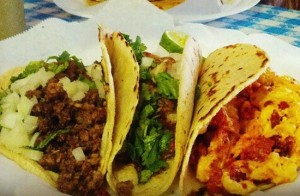 Every dining establishment, regardless of its size or type gives away free food. Plenty of places even tell their employees to give away a certain amount of food each month. Chipotle is giving away free food like it's going out of style. If there's anyone who deserves free food, it's veterans. And it's definitely okay to give free food to a homeless veteran. Not at Jack in The Box, apparently.
Fox News is reporting that Alex Mesta, a teenage employee at a Bakersfield, CA Jack in The Box was fired after giving a homeless veteran free tacos. According to Mesta, the vet was a regular and he typically gave him his coffee for free, saying "It's like not even a dollar for a coffee."
Last week, according to the report, someone ordered two tacos and forgot to pick them up, so when the vet stopped by, Mesta gave him the tacos, which cost 99 cents each and otherwise would have gone into the trash. When he was caught giving the food away by surveillance cameras, he was terminated.
The company said in a statement, "Regarding this incident, while it would not be appropriate to provide complete details on an internal disciplinary issue, our actions in this case were not based on just one incident and had nothing to do with the guest's military experience. We too are grateful to our veterans and to the men and women currently serving in the armed forces."
A Facebook post about the incident has since gone viral:
[H/T First We Feast]
Follow Dana Eisenberg on Twitter.
Have a tip we should know? tips@mediaite.com