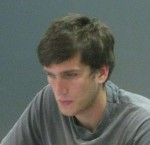 What is the New York Times missing besides a viable online subscription model? A section about feet! And jet packs! and office supplies! The Faster Times — Sam Apple's freshly minted online news site — has all these things and more. 'A New Type of Newspaper for a New Type of World' indeed!
As of 3 p.m. yesterday, there's yet another player in the increasingly over-crowded game of online aggregation, curation and reporting. TFT has 100+ contributors across the globe, mostly professional journalists, covering everything from Iraq to jet packs to yoga to office supplies to scandinavia, each with his or her own beat-blog-section-what-have-you. 
I spoke with Apple — the financier, founder, editor-in-chief and mad scientist — behind it all in the hours before his launch to find out how TFT is going to grab eyeballs away from HuffPo and Daily Beast.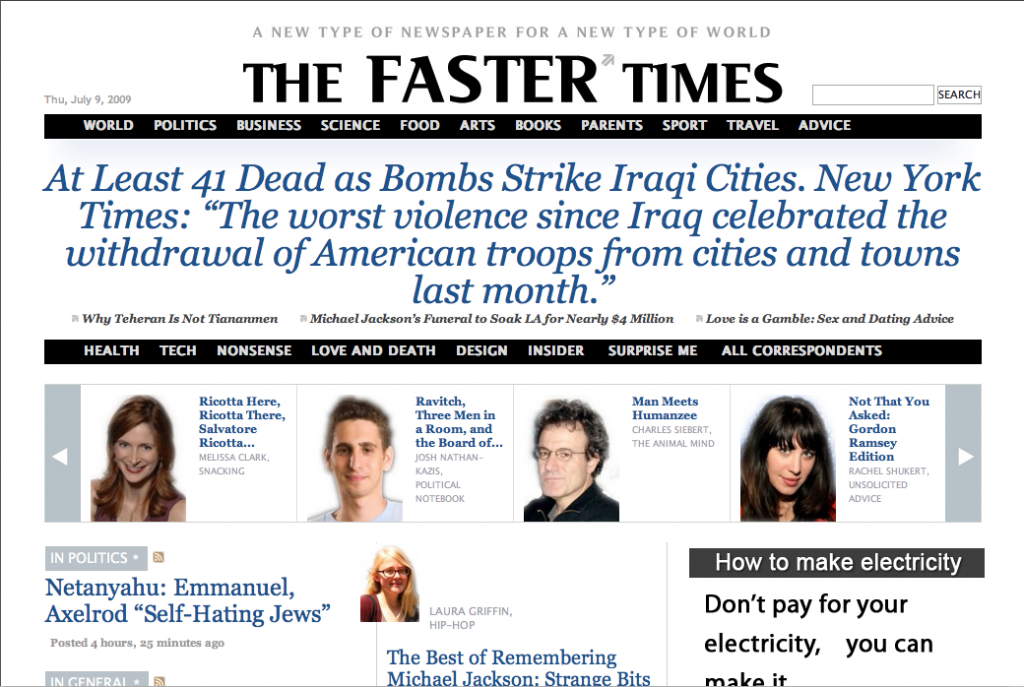 Who do you see reading The Faster Times? And what place, if any, will you be able to carve out in our bloated news diets?
Well I think that it's going to be a long time before we're able to compete with the big sites; it's going to take time to grow. We'll eventually be able to compete with sites like the Huffington Post and the Daily Beast, and we hope to attract the same type of readership.
I think we're certainly going to be a bit more irreverent and untraditional: One of our sections is called nonsense. We have one person covering feet, another person covering office supplies
And facial hair, right?
Sadly our facial hair correspondent dropped out shortly before launch but we hope to have that. It's to some extent absurd but at the same time we want to take them seriously.
Which section do you expect to drive the most traffic in the days and weeks following the launch? How will TFT get the most buzz?
I'm not 100% sure. I expect that it's inevitable that celebrity coverage will draw more traffic than, for example, our reporters in East Africa and the Caribbean.
We decided to make our lifestyle/celebrity section called Love and Death. We're combining celebrity coverage with obituaries and meditation on the meaning of life. I think that by adding gravitas all around the celebrity coverage and having really smart people, not just writing celebrity gossip, but thinking about what it means, we'll be able to have the best of both worlds.
Leading up to the launch, the tagline on The Faster Times site has been 'A New Type of Newspaper for a New Type of World.' How is TFT more of a new newspaper than any other site?
Rather than a handful of sections and many, many writers — like Huffington Post — we have a regular team of writers and reporters who post on a consistent basis on specific topics.
We now have people in 20 different countries. I think it's really exciting that as newspapers are closing foreign bureaus we've been able to set up this new model that has people all over the world.
Did you have to concede these beats, this model to your writers to get them on board, practically as volunteers?
For the time being there isn't that much revenue going around, and we want to make sure that people are writing about what they really want to write about. In our tech section there's somebody dedicated specifically to jet packs. He wrote a book about jet packs. Neal Pollack (his section is not going to be ready for launch) he's writing a book about yoga. We ended up putting yoga in our sports section.
Will you be reaching out to readers through Twitter, for example?
We'll be doing all the obvious things on Facebook and Twitter and taking it from there. We have over 100 correspondents and our hope is that they will all develop their own following.
You said in the NYO piece that you haven't reached out to investors yet. Does that mean that you're footing the bill for all the overhead of the site?
Yes, that's correct.
How did you arrive at the ad-revenue sharing model?
[The writers collect 75% of the ad revenue sold on their pages; the editors get 10% of the ad revenue from their pages and equity in the company.]
I certainly am not 100% sure at this point that it's a sustainable model – the vast majority of the revenue going down to the writers and editors – but I wanted to do it in large part so that the writers would understand that we're doing everything we can for them and we're not asking them to write for free.
This is an offer that we want to make to people who are exclusively with us from the launch of the site. Hopefully it will be rewarding to them in the long term.
How did your experience with Nerve and other sites inform TFT's design? What other websites have you turned to for inspiration?
If not for my tenure at Nerve, I wouldn't have had enough knowledge of the online world to try something like this. And certainly Nerve has been always pushing the boundaries of what you can do online.
Another site which has been hugely influential in my thinking is Talking Points Memo. I especially admire their reporting model: Rather than writing full-fledged 1,500-word reported pieces, Josh Marshall and his staff will often find little tidbits and post them. I refer to it as the reporter's notebook model; you learn what's going on in the story as the reporter discovers it. The posts usually take on momentum – readers will comment, knowledgeable sources will weigh in. I find that exciting.
We're not going to have a lot of original reporting at the launch. One part of the experiment is can we take this great model and push it beyond politics.
What has to happen between now and then to make the reporter's notebook model work for the site?
We have to produce enough traffic to earn more revenue for the writers. I think it's widely agreed that we greatly value the opinion of our writers, but reporting is harder labor and more time consuming. It just costs more money.
It's also a process of teaching people this model. We have a lot of people from print newspapers that don't understand that we're happy to have them make a few phone calls and post what they find out rather than post full-fledged stories.
Do you worry that TFT and your skeleton staff have bitten off more than you can chew?
It's an ambitious project. This is not going to be an easy thing to pull off. I'm already dealing with quite a few issues in terms of getting the technology working properly. If nothing else, our timing is good.
Anything else?
We're launching with a guest post from Gary Shteyngart, which I'm excited about. I think that really covers it.
Have a tip we should know? tips@mediaite.com