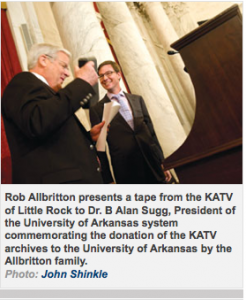 Politico's chief political correspondent Mike Allen penned a nice report yesterday about how 26,000 videocassettes, including "hundreds of hours of raw tape of Clinton's presidential campaign, along with footage from early in his career" had been donated Wednesday to the University of Arkansas by the Allbritton family. The same Albritton family which owns Albritton Communications…which owns Politico.
Maybe we're just being sensitive. Or maybe we're not. You decide. From the piece:
"There's a lot of history in this room, and we're going to continue to make history today with this great announcement," said Sen. Mark Pryor (D-Ark.), the master of ceremonies. "I want to especially welcome and thank the Allbrittons for their great work, their great public service that they're doing today."
*
The collection is one of the nation's most meticulously maintained video archives. It's rare for local stations to save so much raw footage — and rarer still to have it cataloged and accessible.
The event was apparently well-attended, which we learn way down in the 10th graf where Allen lists those in the front row:
In the front row for the ceremony were Joe L. Allbritton, founder of Allbritton Communications Co., which owns KATV, six other ABC affiliates, NewsChannel 8 and POLITICO; his wife, Barbara Allbritton; and their son, Robert L. Allbritton, the publisher of POLITICO and chairman and CEO of Allbritton Communications. (Emphasis added.)

This also happens to be the only disclosure in the piece that Allbritton happens to be the owner of Politico. Should that fact that Albritton owns Politico have been addressed and made clear at the outset? Or even in paragraphs 1-9? Without that sort of clear and transparent disclosure the entire story, which would otherwise be perfectly harmless, feels off: Mike Allen is Politico's well-read and respected chief political correspondent — it's difficult to imagine say Dan Balz writing a WaPo story on a Graham family charity event or Adam Nagourney penning a similar report in the New York Times about the Sulzbergers.
We emailed Allen to ask him his thoughts and he didn't seem to be bothered by it, saying he felt the disclosure was clear: "Not sure how you could say it any more plainly: Allbritton owns POLITICO. That seems pretty clear, but we're always open to suggestions."
.
Have a tip we should know? tips@mediaite.com