Federal Official Warned In Email To Make Sequester Cuts As Painful As Promised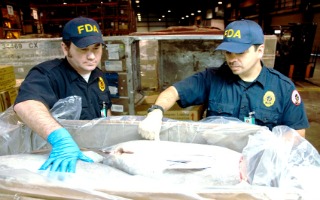 According to a report in the Washington Times, at least one federal official has been informed that he should be careful to make sure to implement his department's sequester-mandated cuts in the most painful way possible. When asked if he had leeway to reduce the impact of those cuts, the official was informed that, if the cuts had a minimal impact, it would contradict the warnings they had submitted to Congress about the dire impact cuts would have on their ability to perform.

RELATED: DNC Floods YouTube With Bad News To Promote #GOPSequester Campaign
In one email obtained by the Washington Times, Charles Brown, an official with the Animal and Plant Health Inspection Service, asked if there was "latitude" available to him as he seeks to minimize the impact sequester cuts could have on fish inspections.
He was informed by the eastern regional director for wildlife services at APHIS that painless cuts would contradict the their warnings about the sequester. He was advised that he should be careful not to controvert the department's warnings to Congress that sequester cuts could hinder their ability to perform their duties:
We have gone on record with a notification to Congress and whoever else that 'APHIS would eliminate assistance to producers in 24 states in managing wildlife damage to the aquaculture industry, unless they provide funding to cover the costs.' So it is our opinion that however you manage that reduction, you need to make sure you are not contradicting what we said the impact would be.
Agriculture Sec. Tom Vilsack said that he had not seen the email in question, but confirmed that every department under his watch would strive to make the sequester cuts as painless as they could.
"If we have flexibility, we're going to try to use it to make sure we use sequester in the most equitable and least disruptive way," Vilsack said.
Read the report via The Washington Times
> >Follow Noah Rothman (@NoahCRothman) on Twitter
Have a tip we should know? tips@mediaite.com