Boy Scouts Looking For Musical Talent That Doesn't Mind The Whole Gay Ban Thing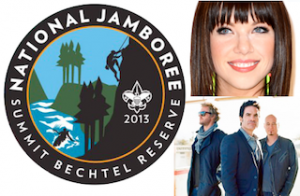 The Boy Scouts' annual Scout Jamboree is only a few months away and thanks to a petition a Change.org the event no longer has any musical entertainment. Scheduled headliners Carly Rae Jepsen and Train each announced that they would be dropping out of the event unless the Scouts overturn their long-standing ban on gay members.
Derek Nance, a former Boy Scout leader who later came out as gay, started the petition just four days ago, quickly racking up more than 62,000 signatures. He described himself as a fan of both Jepsen and Train and urged them to speak out against the Boy Scouts' ban on openly gay youth and parents. "As a talented artists with incredibly loyal LGBT fans around the globe," Nance wrote, "I hope they will speak out quickly, and urge the Boy Scouts to end its dangerous anti-gay policy."
Train was the first to respond, posting the statement below on their website Friday:
When we booked this show for the Boy Scouts of America we were not aware of any policy barring openly gay people from participation within the organization. Train strongly opposes any kind of policy that questions the equality of any American citizen. We have always seen the BSA as a great and noble organization. We look forward to participating in the Jamboree this summer, as long as they make the right decision before then.
Carly Rae Jepsen, whose mega-hit "Call Me Maybe" was recently at the center of a controversy over a pre-Grammys performance by a Newtown choir that failed to materialize, took to Twitter Tuesday to express her "support" for the LGBT community and explain her decision to cancel on the Jamboree.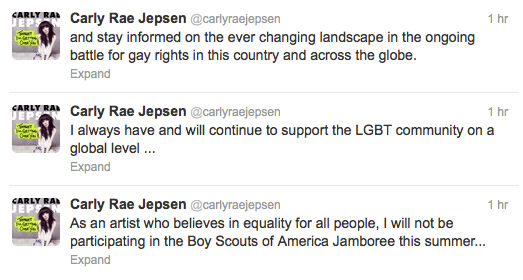 Unless these artists' pleas actually cause the Boy Scouts to change their anti-gay policy, the organization will now be looking for musical entertainers who are eager and willing to perform despite the ban. GLAAD spokesman Rich Ferraro spoke to Mother Jones about the dilemma in which the Boy Scouts now find themselves. "I was trying to think of artists that are anti-gay that the Boy Scouts could get, and I couldn't think of any," Ferraro said. "Perhaps they can ask Chuck Norris or Victoria Jackson."
—
>> Follow Matt Wilstein (@TheMattWilstein) on Twitter
Have a tip we should know? tips@mediaite.com