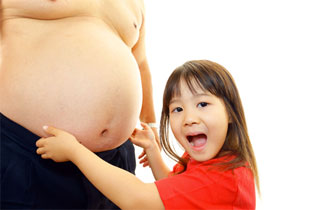 We can blame Ronald Reagan for a lot of things (systematically oppressing the poor via trickle-down economic policies or MAKING AMERICA AWESOME RAAAAH, depending on where you stand), but a group of feminists speaking recently at Swarthmore College accused him of a new crime: causing fat people to suffer.
At a seminar entitled "Fat Justice and Feminism," feminist organizers Nicole Sullivan and Cora Segal hoped to "address the ongoing exploitation and oppression of fat people" by blaming the white patriarchy. No really, that is in the description of their seminar:
From the war on obesity to the rise of deadly bariatric surgery, there is an unprecedented attack on fat bodies. This workshop seeks to map out the focal points of this oppression, while delving into the complex history of white supremacy and misogyny that created it. We will set forth an analysis and call to action to make fat justice a priority in women's movements.
Real talk: there is nothing wrong with discussing women's self-image, especially when it comes to their personal feelings surrounding their bodies, and there's nothing wrong with questioning anti-fat prejudice. But according to the Swarthmore Independent, the seminar focused less on the cultural conversation about body image, and veered straight into claims that obesity was an artificial crisis engineered by the "medical-industrial complex."
These were some of their arguments, with notations from the Independent:
– Ronald Reagan is partially responsible for all suffering of fat people, as he "f*cked everything up." [No specific evidence about Reagan's perverse policies or animosity toward obese people was offered.]

– One of the main problems with the "war" against obesity is that doctors did not start addressing the issue as a major health crisis until the 1990s. This demonstrates that it was not a threat to American public health until lobbyists in the "medical-industrial complex" infiltrated every doctor's office in the country.

– "There is no scientific consensus whatsoever that fat people need to exercise more, or that fat is unhealthy. There is no evidence that [being] fat causes diabetes. Medical professionals are informed of this so-called knowledge by lobbying groups." [A quick glance at virtually any reputable medical source such as the National Heart, Lung, and Blood Institute lists demonstrates the increased risk to obese people of Coronary Heart Disease, Hypertension, Stroke, and a number of other life threatening conditions]…

I found it depressing that the speakers were so eager to write-off programs urging young people to eat healthfully and exercise as "oppression" on the part of "patriarchy, white supremacists, and capitalism." Such programs have been the centerpiece of Michelle Obama's activity as First Lady. As far as I know, Michelle Obama could not accurately be described as a patriarchal white supremacist.
Michelle Obama and Ronald Reagan: just two old oppressive white men.
The rest of the writeup can be found here, and, lest you think that this was a group of college students holding this seminar, here's a VICE article in which Segal claims that "the science [behind obesity] is not proven and undermines the very idea that there is an obesity epidemic."
Also, here's a lot of science that proves otherwise.
[h/t The Swarthmore Independent via The Free Beacon]
[Image via Shutterstock]
— —
>> Follow Tina Nguyen (@Tina_Nguyen) on Twitter
Have a tip we should know? tips@mediaite.com