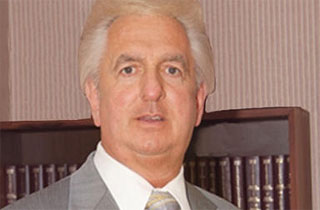 Meet Ronald J. Brockmeyer, the Ferguson municipal court judge whose aggressive revenue-generating policies pushed police to arrest and fine the city's African-American residents — practically causing the racism in Ferguson. And according to the report, while Brockmeyer was leaning on the city's residents for money, he wrote off citations for his friends and family, held jobs that were clear conflicts of interest, and failed to pay more than $170,000 in taxes since 2007.

The Guardian dug into Brockmeyer's background and found that not only was the judge also a prosecutor in two different cities (as well as a private attorney who billed $600/hour), he also had a habit of writing off his own traffic fines and citations, as well as those of his associates. This would be considered low-level corruption if it weren't for the fact that Brockmeyer's currently the subject of a class-action lawsuit accusing him of repeatedly "imprisoned a human being solely because the person could not afford to make a monetary payment".
Oh, and speaking of debt, he's got $172,646 worth of it:
Federal tax liens filed against Brockmeyer by the Internal Revenue Service (IRS) state that he has tens of thousands of dollars in overdue personal income taxes from joint filings with his wife, Amy. He also owes tens of thousands in employer taxes for his law firm and an annual tax paid by employers to fund benefits for the unemployed. Since November 2013, Brockmeyer has paid off another three overdue tax bills totalling $64,599.

He owns three properties in the St Louis area and accompanied his family on a vacation to Walt Disney World in Florida in 2013.
Despite his behavior, however, city officials were loath to replace him: the DOJ report listed one incident in which a city councilman calling for Brockmeyer's replacement was warned that "switching judges would/could lead to loss of revenue".
"Even as Ferguson city officials maintain the harmful stereotype that black individuals lack personal responsibility — and continue to cite this lack of personal responsibility as the cause of the disparate impact of Ferguson's practices — white city officials condone a striking lack of personal responsibility among themselves and their friends," the report added.
[The Guardian]
[Image via Brockmeyerlaw.com]
—
>> Follow Tina Nguyen (@Tina_Nguyen) on Twitter
Have a tip we should know? tips@mediaite.com