Ferguson Officer Darren Wilson Gives His Side of the Story, According to Report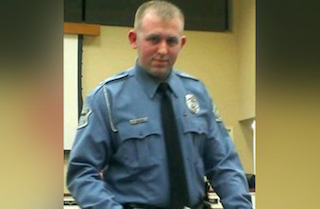 The New York Times has published the first account of Darren Wilson, the Ferguson, Missouri police officer who fatally shot and killed teenager Michael Brown in August.
According to Wilson, Brown pinned him in his police cruiser and reached for his gun. This caused Wilson, who said he was in fear for his life, to fire the gun twice. One of those shots hit Brown in the arm, while the other missed him. Wilson also said Brown "punched and scratched him repeatedly, leaving swelling on his face and cuts on his neck." The report says forensic analysis showed Brown's blood on the gun, inside Wilson's car, and on Wilson's uniform.
The Times report does not, however, provide an explanation as to why Wilson shot Brown six times upon exiting his police cruiser.
While the federal probe is ongoing, the Times reported, there is no evidence yet to bring about civil rights charges against Wilson.
This is the first public account of Wilson's side of the story, and the Times report attributed all claims to government officials who were briefed on the ongoing federal civil rights investigation.
Brown family attorney Benjamin Crump reacted, "The officer's going to say whatever he's going to say to justify killing an unarmed kid. Right now, they have this secret proceeding where nobody knows what's happening and nobody knows what's going on. No matter what happened in the car, Michael Brown ran away from him."
Al Sharpton has already reacted to the story, calling it into serious question.
Watch the report from CNN, below:
Read the full NY Times report here.
[Image via screengrab]
— —
>>Follow Andrew Desiderio (@forza_desiderio) on Twitter
[Note: Mediaite intern Andrew Desiderio is a student at The George Washington University.]
Have a tip we should know? tips@mediaite.com