Ferrous Patella Alert: Nazi-Themed Sign Denier's Rally Chockablock With Nazi-Themed Signs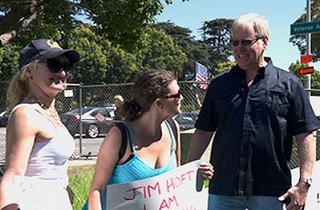 A few months ago, prominent conservative blogger Jim Hoft, better known as The Gateway Pundit (you start out on a loose bowl of derp, and before you know it, you've graduated to WorldNetDaily), challenged the internet to dig up "Nazi symbols – carried by Tea Party activists," which he claimed "did not happen. Anywhere."
When it turned out to have happened everywhere, Hoft somehow proclaimed victory anyway. Hoft's Nazi-themed chickens came home to roost this weekend at Hoft's "Rage Against The Media" Rally in Los Angeles.
In May, Hoft made a bet that no one could find an example of "Nazi symbols – carried by Tea Party activists," and when Wonkette produced that proof, Hoft refused to pay up. The DSCC had sent a fundraising letter that said "At one Tea Party rally this week, mobs chanted 'Waterboard Obama, Waterboard Hillary!' At another, radicals waved signs with Nazi symbols."
Hoft declared that "Of course, this did not happen. Anywhere," and offered to pay $3,150 for "evidence that there were 'Nazi symbols' at any of the Tea Party rallies held last Tuesday."
Well, the New York Times reported on both the Nazi symbols and the waterboarding chants, and the Wall Street Journal provided the photographic evidence, and Hoft promptly…declared victory. It was a stupid bet to begin with, because it is a well-known tendency of the Tea Party to use Nazi imagery in order to smear opponents, including Republicans like Karl Rove. In fairness, the Tea Party and the right do not have a monopoly on this device, but they're the ones who made the bet.
Wonkette's Rebecca Schoenkopf was on hand this weekend to continue her campaign to get Hoft to pay up, even bringing along a satirical sign that said "Nazi-themed sign," but the crowd at Hoft's rally were already way ahead of her:
[imageviewer id=871]

You can read Schoenkopf's extremely generous account of the rally here, including the existence of an attendee who generously allowed that President Obama "is not trying to put me in an oven," but for my money, the real star of this story is the Nazi-themed signs that Jim Hoft lied about showing up to dog him at a rally dedicated to "fighting for objectivity and truth." As ironies go, this one's too on-the-nose even for an Aaron Sorkin script.
Schoenkopf also makes an astute observation about Jim Hoft, offering the backhanded compliment that he "does not actually present as stupid." Along those lines, I would add that Hoft is universally regarded, by conservatives who are acquainted with him, as a super-nice guy. This might not seem like much of an accomplishment, but there are many, many popular conservative media figures who are reviled by people who have actually met them, and Hoft isn't one of them. It appears as though his strain of conservative bomb-throwing is a lot like the aggression shown by the Hulk Hogan character in Rocky 3, and his engagement with liberals like Schoenkopf is just part of the show.
[Photos by Laura Shapiro/courtesy of Wonkette]
Have a tip we should know? [email protected]