Festivals Drop Eagles of Death Metal Concert Over Singer's Comments About Terrorism, Islam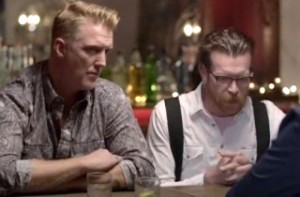 The Eagles of Death Metal, the band that performed at the Bataclan concert hall in France when it was targeted by terrorists months ago, were scheduled to appear at two French festivals after an interview from singer Jesse Hughes this week.
Hughes spoke with Taki Magazine's Gavin McInnes about the attack, and McInnes asked him if he agrees that political correctness is a serious problem that gets in the way of responding to terrorism.
"Definitely," Hughes said. "There were two girls who were involved. They were at the venue and vanished before the shooting, and these women were in traditional Muslim garb. They knew people wouldn't check them because of the way they were dressed."
He said he doesn't understand how "a faith [is] being associated with racism," lamented how much "Arab money" goes into Hollywood, and made this comment when McInnes asked if a "liberal mentality created this need to surrender":
I will lay the blame right in its lap. When you tell people they can't help themselves and that they're children, you weaken them to a point where three feet away is life and they can't see it because they're too scared.
Well, the two festivals the Eagles of Death Metal were scheduled to perform at posted this message online in response:
Being in total disagreement with Jesse Hugues' recent allegations given in an itw with an american media, both Cabaret Vert & Rock en Seine festivals have decided to cancel the bands performance.

We thank you for your understanding.
[h/t The Daily Beast]
Have a tip we should know? tips@mediaite.com
Josh Feldman - Senior Editor