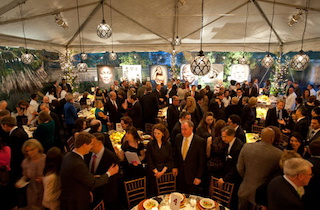 They say Washington is Hollywood for ugly people. I say this because everyone is writing about how Washington is Hollywood for ugly people. And so the White House Correspondents Dinner is a nice little respite in which the Hollywood elite and the political elite can hobnob and yuk it up without a worry or care in the world.
But the relationship is very one-sided: all the politicians are clamoring to interact with the celebrities, not so much the other way around. Well, according to The Hollywood Reporter, it turns out that fewer A-list celebrities will be attending the dinner tonight. Why? Because it's just gotten too weird for them.
[O]ne Hollywood insider, who asked not to be identified, tells The Hollywood Reporter that the lack of swoon-worthy A-list movie stars shows that the lure of the event "has faded dramatically."

According to the source, "there are way too many A-listers who have had pretty weird experiences at the dinner. A lot of the people who have gone say they'll never do it again. The room is so crowded. It's uncontrolled. There's no limit to the number of people trying to get photos and autographs — and there's no way to hide from it. It's like the stars are animals in a cage. People go crazy when they see them. They act like a bunch of kids at the Kids' Choice Awards."
Much has been written about the criticism that the annual "#nerdprom" means that journalists are being too collegial with the people they're supposed to be covering professionally, but perhaps the journalist-celebrity leech-host relationship deserves some attention too.
One previous attendee told THR that people are "infatuated with anyone who is sort of famous" and parading around the place "like they're the secretary of state."
But don't despair, because lots of celebrities will still be at the dinner tonight, including the stars of the three big D.C. shows: Veep, Scandal, and House of Cards. Also Will.i.am, who will be on Meet the Press tomorrow.
[image via screengrab]
— —
Follow Josh Feldman on Twitter: @feldmaniac
Have a tip we should know? [email protected]
Josh Feldman - Senior Editor