Concha: Rutgers Embarrasses Self After Compelling Condi to Cancel on Commencement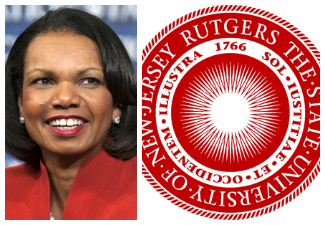 "In the four years since the inspectors left, intelligence reports show that Saddam Hussein has worked to rebuild his chemical and biological weapons stock, his missile delivery capability, and his nuclear program. He has also given aid, comfort, and sanctuary to terrorists, including Al Qaeda members, though there is apparently no evidence of his involvement in the terrible events of September 11, 2001. It is clear, however, that if left unchecked, Saddam Hussein will continue to increase his capacity to wage biological and chemical warfare, and will keep trying to develop nuclear weapons. Should he succeed in that endeavor, he could alter the political and security landscape of the Middle East, which as we know all too well affects American security."
That was Condoleezza Rice in 2002, just months before (as National Security Advisor) helping to push America into a war a majority of the country (53 percent, according to the most recent Gallup poll) now says wasn't worth fighting. So when some professors and students at Rutgers passionately protested the university's decision to extend a commencement speech invite to the 59-year-old Rice, it was easy to see the opposition had little to do with the fact she's a Republican, and much more about her role in the Bush administration in selling a bill of goods around the Iraq War.
Except for one thing…
The 2002 quote above isn't from Rice, but from then-Senator Hillary Clinton.
For those not up to speed on this story, here's the elevator version of the Rice/Rutgers controversy that came to a head this morning:
– Two months ago, Rutgers extends an invite to Rice to speak at this year's commencement
– 50 of Rutgers' 45,000 undergraduate students, along with a handful of professors, begin an active campaign to have Rice's invite rescinded (which included a campus sit-in last week). The student newspaper also states its stance in asking for Rice to be disinvited.
– Saturday morning, Rice decides to remove herself from the ceremony by stating, "I understand and embrace the purpose of the commencement ceremony and I am simply unwilling to detract from it in any way."
So kudos to Rutgers for maintaining its high standards when it comes to whom exactly gets to dispense life lessons to its graduating students and who does not. The apex of said standard was achieved three years ago, when RU doled out $32,000 to future Nobel Prize winner Nicole Polizzi to perform a two-hour Q&A at its Piscataway campus. The $32K was two grand more than the payment to actual Nobel Prize-winning author Toni Morrison when she delivered the school's commencement address one month later.
"Study hard, but party harder," was the money quote from Polizzi, who is better known simply as Snooki. Needless to say, RU students—particularly those paying the $25,000 annual in-state tuition or $39,000 annual out-of-state tuition themselves—were thrilled to see how judicious the university was in spending their money.
"My tuition dollars wasted on Snooki," one student tweeted at the time. "Rutgers probably could have paid her with a case of beer." Clearly this student didn't watch Jersey Shore on MTV… because everybody knows the Snook always preferred coconut rum with pineapple juice and whipped cream.
So in today's rhetorical question exercise, would those Rutgers students and facility have strongly lobbied the school's board of governors to rescind an invitation to Hillary if she got an invite instead? How about then-Senator Joe Biden or then-Senator John Kerry? Because they all also strongly stated in 2002 that Saddam possessed weapons of mass destruction and could destabilize the Middle East if left unchecked. Can't blame them for taking that position, mind you––British, French, Israeli, German, Russian and Chinese intelligence all stated Saddam had WMDs as well. And as we know, Hillary, Biden and Kerry all voted in favor of invasion. Without Congressional approval, the war never happens no matter how badly Dick Cheney and George W. Bush wanted it.
So really, would Hillary get the same shabby treatment as Rice… who's not only a former Secretary of State, but has been on the board for years of both the Boys and Girls Clubs of America and Kennedy Center, all while serving as a Stanford professor (political science) when she's not performing for charity as a classical pianist? Naah… the thousands of students who will be graduating in two weeks wouldn't learn a damn thing listening to someone with that kind of resume and life experience.
The whole situation is reminiscent of what went down at Johns Hopkins at around this time last year. If you recall, some students and faculty members expressed similar dissent regarding Dr. Ben Carson speaking at their commencement. You know…the doctor who performed delicate surgery on children with traumatic brain injuries and spinal cord tumors on a daily basis during his renowned 36-year career? You know… the guy who overcame poverty after being raised by an illiterate single mom in inner-city Detroit and became Director of Pediatric Neurosurgery at Hopkins at age 33?
But once it was revealed that Carson's politics were conservative, once he criticized Obamacare with the President sitting just feet away from him, and once he stated his opposition to gay marriage, well…
Inspiring underdog story in overcoming some of the longest odds possible?
A lifesaver of thousands of children with cancer?
No matter. Carson also had to bow out.
Like Johns Hopkins, Rutgers can now pat itself on the back for taking a stand against the evil that is Condi Rice.
Maybe JWoww or one of the Real Housewives can be tapped to speak instead.
Or better yet…one of the 29 Democratic senators who voted for the Iraq War 11 years ago.
[image via screengrab]
— —
Follow Joe Concha on Twitter @ConchaMedia
Have a tip we should know? tips@mediaite.com