'Fidel Castro is Dead. I Hope Colin Kaepernick is OK.': Twitter Reacts to Castro's Death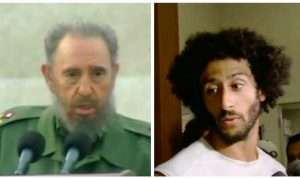 Being that this was THE big news of the day, it was natural that everyone would jump on Twitter to give their take on longtime Cuban leader Fidel Castro's death on Saturday.
Lawmakers, political leaders, media figures and everyone in between grabbed their phones and tried to express their opinions within 140 characters.
We've already highlighted the reactions of President-elect Donald Trump and former Arkansas Governor Mike Huckabee. Here are the best of the rest:
Trump says he's no fan of Fidel Castro. He prefers his dictators to be clean shaven and in a suit like Vladimir Putin

— (((DeanObeidallah))) (@Deanofcomedy) November 26, 2016
Believe it or not, Donald Trump did a better job marking the death of Fidel Castro than either Justin Trudeau or Jean-Claude Juncker have.

— Jeff B/DDHQ (@EsotericCD) November 26, 2016
Pres Obama's statement on Fidel's death carefully-worded to avoid condemnations of his decades of dictatorship.

— Mark Knoller (@markknoller) November 26, 2016
It is true that Fidel Castro raised literacy rates across Cuba. It is also true that he severely restricted what the people could read.

— Jeffrey Goldberg (@JeffreyGoldberg) November 26, 2016
The outpouring of praise for Fidel Castro is tragic.he was a relentless dictator who imprisoned thousands, killed and tortured many Cubans.

— Newt Gingrich (@newtgingrich) November 26, 2016
Fidel Castro is dead 90 years too late. #castrodeath

— Judge Alex Ferrer (@judgealexferrer) November 26, 2016
Now that Fidel is gone, U.S. should press hard against Raul and support the Cuban people until he provides basic rights and freedoms to all.

— Bill Nelson (@SenBillNelson) November 26, 2016
Impossible to take seriously people who think Trump is a threat to freedom when they praise Fidel Castro.

— Erick Erickson (@EWErickson) November 26, 2016
Will we get "Fidel Castro is still dead!" tweets later in Trump's reign? https://t.co/HcVsdpcwNJ

— Matt Taibbi (@mtaibbi) November 26, 2016
Take note of the pundits who today denounce Fidel Castro and later will praise Henry Kissinger when he finally croaks.

— jeremy scahill (@jeremyscahill) November 26, 2016
I'm truly stunned at the world leaders and journalists excusing, soft-pedaling, and mourning Fidel Castro.

— Will Cain (@willcain) November 26, 2016
Fidel Castro is dead. I hope Colin Kaepernick is ok.

— Robert J. O'Neill (@mchooyah) November 26, 2016
Fidel Castro's own daughter said "dictator" was too kind a word to describe him. She preferred "tyrant."

— Robby Soave (@robbysoave) November 26, 2016
Many things in international affairs are complex. That Fidel Castro was both evil & an enemy of the U.S. is one of the easy ones.

— Dan McLaughlin (@baseballcrank) November 26, 2016
[image via screengrab]
–
Follow Justin Baragona on Twitter: @justinbaragona
Have a tip we should know? [email protected]