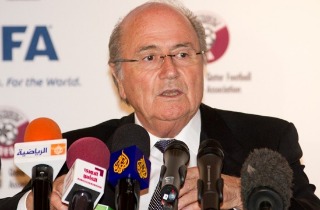 Back in 2009, FIFA awarded the 2022 World Cup to Qatar. Since then, there have been plenty of reports out of Qatar about some horrible human rights issues going on in preparation for a world cup that's still eight years away. An investigation into the matter discovered that dozens of migrant workers have died and thousands more have endured "appalling labor abuses." The report found a huge amount of evidence that Qatar has been using forced labor on the World Cup build-up, salaries have not been paid in many cases, employers confiscate workers' passports, and even some workers being "denied access to free drinking water in the desert heat."
And so finally, this week, FIFA President Sepp Blatter admitted aloud that, actually, maybe giving Qatar the World Cup was kind of a mistake.
"Yes, it was a mistake of course, but one makes lots of mistakes in life," said Blatter, Fifa's president, in an interview with the Swiss broadcaster RTS. "The technical report into Qatar said clearly it was too hot but the executive committee – with a large majority – decided all the same to play it in Qatar."
Yes, this was even with Qatar being deemed a "high risk" place to hold the World Cup.
And aside from all those reports about human rights issues, the Qatar World Cup got some attention for the vagina-shaped stadium designed by Zaha Hadid.
Oh, and as the cherry on top, back in 2010 Blatter recommended that gay people should "refrain from sexual activities" because, you know, they have those anti-gay laws and all. Yeah, probably a mistake.
— —
Follow Josh Feldman on Twitter: @feldmaniac
Have a tip we should know? tips@mediaite.com
Josh Feldman - Senior Editor