'Fifty Shades Dumber Is More Like it': The Reviews Are in for Fifty Shades Darker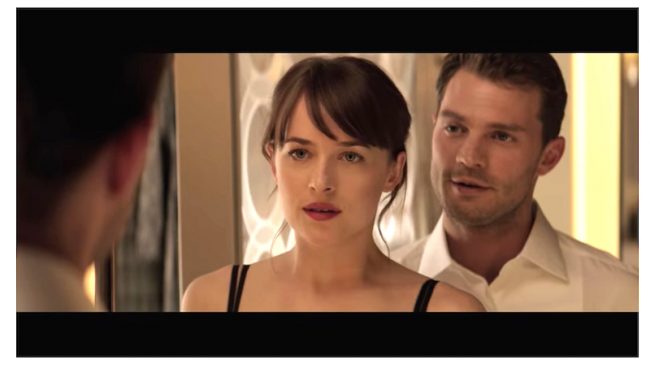 Fifty Shades Darker, the sequel to Fifty Shades of Grey, comes out today, just in time for Valentine's Day. For the uninitiated, the Fifty Shades movies are based on the erotic romance novels from 2011 that catapulted onto the scene and topped pretty much ever bestseller list on the planet.
The movies are a different story. The first movie, a box office success, didn't do so well with critics. Well, the reviews are in for Fifty Shades Darker, and it's more of the same. While there are definitely some bright spots, and everyone seems to agree that the two stars are gorgeous, the movie's plot and some of the dialogue has led so some incredible and hilarious lines from reviewers.  Peter Travers' Rolling Stone review begins "Fifty Shades Dumber is more like it." Slate's Laura Bennett writes that "[Jamie] Dornan's Christian continues to have all the charisma of a butt plug." and several other reviewers expressed similar sentiments. Here are some of the best smackdowns of Fifty Shades Darker.
From Rolling Stone:
Fifty Shades Dumber is more like it. In our shockingly generous one-star review of Fifty Shades of Grey in 2015, we dismissed the film version of E.L. James' bestseller as Cinderella porn – an S&M fantasy so sanitized it couldn't shock Aunt Tillie. Now here's the followup, again with Dakota Johnson, again vainly trying to have fun as Anastasia Steele.
From Slate's Laura Bennett:
Here we are again: watching two anatomical marvels writhe meaninglessly in the moonlight, like a burlesque performed by bots.
Once again, for every inventively choreographed bedroom caper, there are three that are about as sexy as a Geico ad.
From The Guardian's Catherine Shord:
Spliced between such drama come the sex scenes, steamy as a greasy spoon and almost as erotic. Fifty Shades's chief way of proving how dirty it is seems to be making its stars take endless showers – which inevitably leads to more sex, and so a terrible cycle of shagging and washing.
BBC's Nicholas Barber:
Despite drifting along for almost two hours, Fifty Shades Darker is about nothing except Christian being nice and Ana being pleased about it. It would be over in half that time if it weren't for the regular-as-clockwork sex scenes and some of the most distractingly blatant product placement ever seen outside of a Bond movie
The New York Times' Manhola Dargis:
There's not much else to say except that the all-media screening of "Fifty Shades Darker" I attended had scarcely begun before it turned into a live edition of the TV show "Mystery Science Theater 3000." At least some of the few hundred moviegoers seem to have arrived with modest expectations; others had seen "Fifty Shades of Grey," so presumably knew better.

Soon, though, the individual scattered titters and excited murmurings began to shift and to harmonize as skeptics and true believers alike became as one, joined by the display of so much awfulness. Afterward, we lit cigarettes and murmured about what fun we had even though we also agreed that we could never go there again.
The A.V. Club's Katie Rife:
But even more unsettling than Christian's abusive, controlling personality is the blithe way in which these actions are dismissed. Sure, Ana may say something to the effect of, "You had me followed? Not cool, Christian"—and that is the level of wit on display here, make no mistake—but in the next scene, all is forgotten and they're making love on satin sheets. You see, Christian's birth mother was a crackhead, and thus he longs to abuse women who look like her in order to get revenge on her. No, really, that's a big emotional reveal midway through the film. Cue shower sex!
Vox's Alex Abad-Santos:
It's an expensive-looking compression of a luxury penthouse condominium and 14 sex scenes. At times, it feels less like a romance and more like a Tony Robbins motivational tape intended to convince reluctant souls that Jamie Dornan is indeed the man of their dreams.
[image via screen grab]
Have a tip we should know? tips@mediaite.com