Fight For Your Right To Be Horny! Italian Protestors Defend Bunga Bunga Berlusconi: 'We Are All Whores!'
Fight For Your Right To Be Horny! Italian Protestors Defend Berlusconi: 'We Are All Whores!'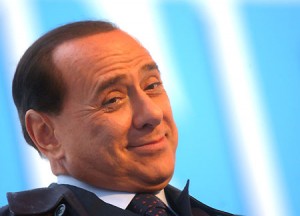 Disgraced Italian ex-prime minister Silvio Berlusconi was convicted yesterday on charges of prostitution and corruption and sentenced to seven years in prison. Berlusconi has appealed the decision and there is speculation that he could be successful and may end up getting off (ba-dum-tss!). In the meantime, Berlusconi's supporters are taking to the streets to express their outrage and overt sexuality. They gathered in Rome with signs that displayed a single, unifying message: siamo tutti puttane, which, in English, says "We Are All Whores."
Welcome to Italy.
The Guardian's Lizzy Davies highlights what lengths Berlusconi's defenders are going to in order to defend the honor of the man whose "bunga bunga" parties included a showgirl dressed as President Obama.
As the centre-right leader prepared to meet Italy's prime minister, Enrico Letta, a number of his angry allies descended on a central square in Rome on Tuesday to hold a protest under the banner of siamo tutti puttane, which translates as "we are all whores"…

The event ended to the strains of Ruby Tuesday, the Rolling Stones song, in honour of Karima el-Mahroug, the young Moroccan woman at the heart of the case whose stage name was Ruby Rubacuori (Ruby Heartstealer).

Francesca Pascale, Berlusconi's 27-year-old girlfriend, made an appearance at the protest, telling reporters the sentence was "disgraceful, indecent" and she felt ashamed of her country's "sick justice system".
Look, if you're going to stick up for a corrupt whoremonger, you should be using a very different Rolling Stones song.
But here's the best part: the editor of a pro-Berlusconi paper uploaded a 20-second video to YouTube in which he is applying lipstick to his face. Get it? He's supposed to be a whore!
Although, to be fair to Berlusconi's defenders, it's possible they aren't saying they're full of sexual energy, just self-identifying as whores for Berlusconi.
Watch The Guardian's report on the Berlusconi verdict fallout here:
Have a tip we should know? tips@mediaite.com
Josh Feldman - Senior Editor