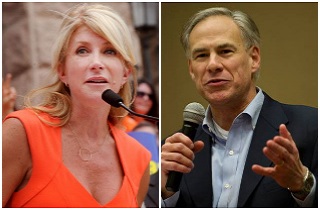 After being thrust back into the national consciousness by ham-fisted comparisons of her June filibuster with Sen. Ted Cruz's (R-TX) fake filibuster, Texas State Senator Wendy Davis (D-TX) has reportedly informed "influential Democrats" that she will, indeed, run for Texas governor. In the immediate aftermath of her attempt to block abortion rights restrictions in the state, Davis invited speculation about a run.
When asked about a possible gubernatorial run in June, by All In host Chris Hayes, Davis said "You know, I would be lying if I told you that I hadn't had aspirations to run for a statewide office. I love this state, and it's been an incredible opportunity to represent it in the Texas Senate."
She added, "I think, though, the real story will be, will the sentiment of the people hold? Will they demonstrate their desire for new leadership in this state? If yesterday was any indication, I think chances are pretty good that that's going to be the case."
Apparently, they now have demonstrated that desire to her satisfaction. From Politico:
Texas state Sen. Wendy Davis and her advisers have begun informing influential Democrats that she intends to run for governor in 2014, according to multiple sources familiar with Davis's conversations.

…Davis advisers declined to confirm that she will enter the governor's race, but Davis consultant Hector Nieto said the senator has made up her mind about 2014 and will unveil her plans next week.

"Sen. Davis has decided what she will do and she looks forward to making that announcement with her grass-roots supporters on Oct. 3," Nieto said.
Governor Rick Perry (R-TX) has already announced he won't run for reelection, which likely means Wendy Davis would face Texas Attorney General Greg Abbott, who led Davis by 8 points in the last PPP poll conducted, in June. That was an improvement, however, from a January poll that had her 12 behind Abbott, and 6 points behind then-undecided Perry. Since then, Abbott ran into trouble when he thanked a supporter in response to a tweet calling Wendy Davis "Retard Barbie."
Davis rose to national prominence in June, when she successfully blocked the Texas legislature from passing restrictions on abortion rights during a special session, forcing Gov. Rick Perry to call another special session in order to pass the laws. According to opponents, she's also unbelievably hot:
[imageviewer id=641]
Have a tip we should know? tips@mediaite.com