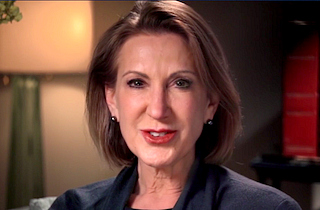 Carly Fiorina applauded Hugh Hewitt and the countless calls for change last night after receiving the news that she would have a spot at the next Republican debate due to CNN's change of criteria.
Today, Fiorina spoke with Laura Ingraham, where she attacked her detractors who only treat her as a potential vice president because she is a woman. The former CEO retorted that she is as qualified to run as any of her competition.
"The people who say that I am in this for vice president — that's sexist," Fiorina said. "No one talks about the men being in it to be veep. I'm not in it to be veep, I'm in it to win this job and to do this job."
Fiorina was also asked to respond to comments made by Rachel Maddow and others on the news, which Ingraham described as being a form of "affirmative action" to let her into the debate.
"It's really kind of outrageous when you earn it, people say its affirmative action," Fiorina responded. "I earned this place by virtue of my position in the polls. There's only one candidate who has moved to the top 10. That's me."
In the rest of the interview, Fiorina continued on her emphasis on how she was not making gender an issue of her campaign, her focus on beating Hillary Clinton, and the upcoming impact on poll numbers. Ingraham warned her that the shake-up might cause the current frontrunners to gun for her, but Fiorina appeared undaunted.
"They may come after me, but they will not destroy me," Fiorina said. "Game on when this starts."
You can listen to the segment here:
[h/t The Hill]
[Image via screengrab]
— —
>> Follow Ken Meyer (@KenMeyer91) on Twitter
Have a tip we should know? [email protected]