FiveThirtyEight Kicks Off 2016 Coverage by Declaring GOP Field Historically Divided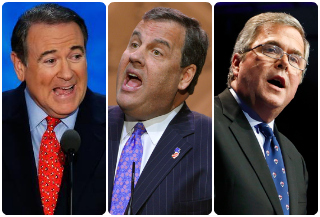 Nate Silver's ESPN-hosted incarnation of FiveThirtyEight launched at the beginning of this week, and already the site is making some interesting data-based observations about the 2016 presidential election. On Friday, former Guardian report turned FiveThirtyEight senior political writer Harry Enten broke down polls going back to 1976 to show that the Republican Party is more divided than ever.
By looking at the top five potential candidates in polls taken during the first three months of the midterm election year that preceded each presidential election year, Enten found that the GOP field for 2016 is "rare" in its lack of consensus. The top candidates for 2016, Mike Huckabee (14.8%), Chris Christie (13.0%), Jeb Bush (12.2%), Rand Paul (11.1%) and Paul Ryan (10.9%) are all drawing less than 15% of the field. (Note the Texas senator who didn't make the cut.) In every other year he looked at, the top candidate held more than 23% of the tally, with George H.W. Bush representing the top of the heap with 65% in 1992 (when he was the incumbent).
Perhaps most surprising is how accurate these polls have been, at least on the Republican side of the equation. In every year where data available, the GOP frontrunner nearly two years out became the nominee. Without a clear leader this year, the polls are far less likely to be predictive.
And what about on the Democratic side? Hillary Clinton towers above the pack at 67% with Joe Biden (10.0%), Elizabeth Warren (6.8%), Andrew Cuomo (3.0%) and Cory Booker (2.5%) far below. This makes 2016 the least divided year for Democrats going back four decade with 57 percentage points separating Clinton from Biden.
However, the Democratic polls this far out have tended to be less predictive, with Ted Kennedy leading the pack in 1976, 1980 and 1984 despite never becoming the nominee. In early 2006, Hillary Clinton was on top with 39.8% and Barack Obama didn't crack the top five.
As Enten warns, polls this far in advance "don't tell us all that much about the eventual vote percentages." But they do tell us something about how the respective fields are shaping up, which can only be seen as concerning news for the right.
[photos via Reuters]
— —
>> Follow Matt Wilstein (@TheMattWilstein) on Twitter
Have a tip we should know? tips@mediaite.com