Florida Democrat Alex Sink Ran Against Repealing Obamacare and Lost
Rothman: FL Dem Alex Sink Ran Against Repealing Obamacare and Lost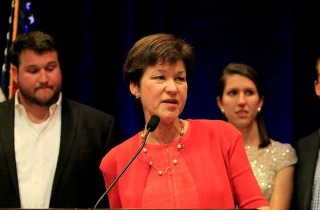 Defending the Affordable Care Act is becoming increasingly difficult for Democratic politicians, but capable progressive pundits have proven more deft at finding silver linings in polls which consistently show the president's health care reform law remains a political liability. Sure, the law is broadly disliked, they argue, but so is the Republican position of full repeal of the ACA without offering a replacement.
No analyst has done better or more comprehensive work on this subject than The Washington Post's Greg Sargent. "Obamacare remains unpopular," Sargent wrote in February. "But it's increasingly apparent that the GOP repeal stance is untenable, and that there's no easy escape from it."
The tea leaf-readers of MSNBC's Morning Joe echoed Sargent's analysis on Wednesday morning. NBC News Chief White House Correspondent Chuck Todd observed that Democrats running away from the ACA appear "full of it" to savvy voters. Co-host Mike Barnicle became animated when he asked why Democrats are not mounting a full-throated defense of the ACA by attacking the GOP's pro-repeal position as a return to unloved status quo ante.
This was a perfectly reasonable position to hold before last night but, as of approximately 7:30 p.m. on the East Coast, the belief that the GOP's pro-repeal message will be a millstone around their necks in November became an article of faith. A real-world test case was run in which a Democratic politician running in a swing district, a candidate who did not have a vote for the ACA to defend, ran against her Republican opponent's pro-repeal stance. She lost.
Former gubernatorial candidate Alex Sink lost her bid to replace the late Rep. Bill Young (R-FL) in Florida's 13th congressional district to Representative-elect David Jolly on Tuesday night by 2 percentage points. Polls had shown her up by as much as 9 points just weeks prior. She campaigned on a number of issues, as all candidates do, but among her more pronounced themes was her stance that the ACA, flawed as it is, must not be repealed.
In one widely run 30-second advertisement, Sink hit Jolly for advocating going back to "letting insurance companies deny coverage," a reference to the popular provision within the ACA that prohibits private insurance providers from discriminating against enrollees with preexisting conditions. "We can't go back to letting insurance companies do whatever they want," she said. "Instead of repealing the health care law, we need to keep what's right and fix what's wrong."
Her position on the ACA was relatively consistent throughout the congressional campaign. Speaking before a supportive audience in December of last year, Sink explained that the ACA roll-out was a "disaster" and the president "failed us." However, she believes in the principle that all Americans should have access to health insurance and the ACA is an irreplaceable step in that direction. "We cannot go back to where we before," Sink insisted to applause.
"The heart of the campaign against her by Republican David Jolly and his allies is that Sink supports Obamacare, while Jolly would repeal it," Tampa Bay Times political editor Adam Smith reported in February. "Virtually every TV ad and mailer criticizing Sink mentions the law, and virtually every candidate and operative working on congressional campaigns is watching the Sink-Jolly race for lessons on how to approach November."
"Her campaign volunteers also have delivered doughnut holes to the Jolly campaign, a stunt aimed at highlighting how repealing the law would reinstate Medicare's prescription drug doughnut hole," the report continued. Even White House Press Sec. Jay Carney expressed the presidnet's support for Sink and her anti-repeal message.
If there was a singular issue on which the special election in Florida's 13th turned, it was the debate over the value of the repeal of the ACA. What's more, the pro-repeal message won in spite of the flawed nature of the messenger.
Sink lost to a Republican who should have logically underperformed a generic Republican. Jolly, a 41-year-old lobbyist and Washington insider in the midst of a divorce (who is presently dating a 27-year-old former coworker of Jolly's) represented the perfect candidate from a Democratic perspective. In theory, he should have been easily framed, polarized, and made toxic. It did not turn out that way.
Special congressional elections are notoriously unpredictable and are almost never indicative of one party's future performance. But that does not mean there are no lessons to be learned from this latest contest, and one of them is the fact that Democrats ran a campaign against repealing the ACA and lost in a swing district that repeatedly sent a Republican to Congress but voted for Barack Obama twice. Democratic partisans who support the ACA will, and have, attempted to give wavering Democrats a pep talk, but office holders are far more responsive to election results than the pronouncements of pundits.
Make no mistake, last night's results in Florida's 13th congressional district put the Democrats' anti-repeal message on the ropes.
[Photo via Dirk Shadd/Tampa Bay Times]
— —
> >Follow Noah Rothman (@NoahCRothman) on Twitter
Have a tip we should know? tips@mediaite.com