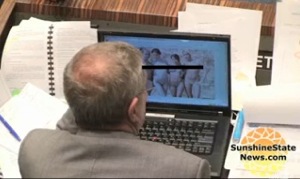 If ever there were a news story that sums up the strange times we now find ourselves, this is it. Elected official acting inappropriately? Check. Digital communications devices used in a private manner but revealed publicly? Check. An invasive news media getting a salacious shot at an unaware public figure? Yup. For more about the Florida State Senator who was videotaped surfing pornographic images mid-session, and the reporter he later threatened, please continue…
The video of Senator Mike Bennett was first reported in a story entitled "Sen. Mike Bennett Caught Looking at Porn on Senate Floor"
From that story, writer Lane Wright reports:
On Thursday morning, Sunshine State News captured exclusive video of Sen. Mike Bennett, R-Bradenton, looking at pornographic material on his state-issued computer on the Senate floor.

Ironically, as Bennett is viewing the material, you can hear a Senator Dan Gelber's voice in the background debating a controversial abortion bill.

"I'm against this bill," said Gelber, "because it disrespects too many women in the state of Florida."

Bennett defended his actions, telling Sunshine State News it was an email sent to him by a woman "who happens to be a former court administrator."
Now watch the video below:


Perhaps understandably, Senator Bennett didn't like this report, and responded with a threatening phone call to the reporter. Wright continues in a separate report:
But within about an hour after publishing my story about the pornographic image we caught with our cameras on his computer, I got a threatening phone call from the senator blasting me for publishing his story.

"What kind of man are you?" he asked, then ascribed other attributes to my character such as "pathetic" and "voyeuristic".

"What kind of man sneaks over people's shoulders like that?" Bennett questioned.

I'd like to remind readers that Sen. Mike Bennett was viewing the image on the Senate floor during session — while I was in the standard place for reporters during session, which is one floor above in the reporter's gallery
And that's how we got a great new news story to follow out of the great state of Florida.
Have a tip we should know? tips@mediaite.com
Colby Hall - Founding Editor