Flynn Spoke Out in Interview With The Daily Caller Yesterday Before Resignation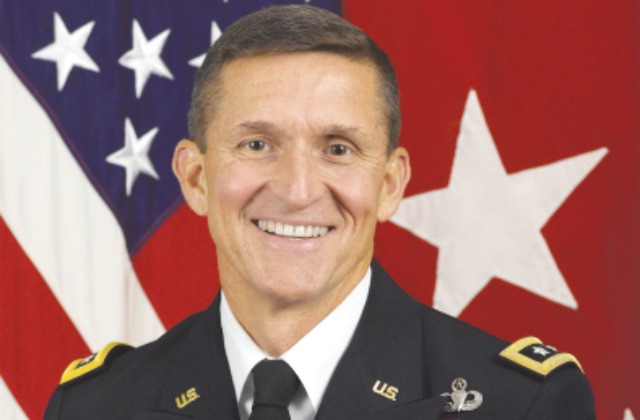 Before resigning yesterday, National Security Advisor Michael Flynn gave an interview to The Daily Caller in which he expressed his concern about leaks within the Trump administration and discussed his phone call with the Russian ambassador at the heart of his scandal. He said, "This is ridiculous. It's so out of control. I've become an international celebrity for all the wrong reasons."
This is how The Daily Caller describes Flynn's account of the call:
Flynn insisted that he crossed no lines in his telephone conversation with Russian Ambassador Sergey Kislyak: "If I did, believe me, the FBI would be down my throat, my clearances would be pulled. There were no lines crossed."

Flynn said there was a brief discussion of the 35 Russian diplomats who were being expelled by Obama in retaliation for Moscow's alleged interference in the 2016 campaign.

"It wasn't about sanctions. It was about the 35 guys who were thrown out," Flynn said. "So that's what it turned out to be. It was basically, 'Look, I know this happened. We'll review everything.' I never said anything such as, 'We're going to review sanctions,' or anything like that."
That being said, Flynn did say he feels "terrible" about the position he put Vice President Mike Pence in, saying that he apologized to the veep and he "should have said, 'I don't know. I can't recall,' which is the truth."
He said in his resignation letter last night that because of "the fast pace of events," he inadvertently briefed Pence with "incomplete information."
Sean Spicer said today that President Trump asked for Flynn's resignation over an erosion of trust. Flynn said in the interview yesterday that Trump had "expressed confidence" in him.
The president tweeted out this morning that the "real story" here is about illegal leaks, and Flynn agrees that there is a serious problem:
Flynn called the leaks of classified information against government officials "unprecedented," and predicted those would be the focus of future congressional investigations.

"Members of Congress are very concerned because these are leaks from classified systems. The House and Senate are looking into those things, as they should," he told TheDCNF.
You can read the full interview here.
[image via DIA]
——
Follow Josh Feldman on Twitter: @feldmaniac
Have a tip we should know? tips@mediaite.com
Josh Feldman - Senior Editor