Folk Singer Michelle Shocked Tells Crowd 'Michelle Shocked Says God Hates Fags'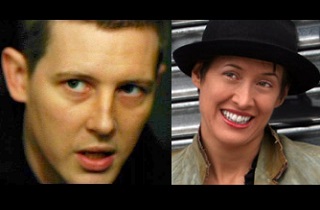 With public figures taking stands in favor of gay rights making news lately, opponents of equality for LGBT people got a much-needed breath of freshly-expelled air over the weekend. According to Twitter reports from the show, eighties folk singer-songwriter Michelle Shocked stunned the crowd at a San Francisco club Sunday night by going on a rant that was described as "Totally sincere" and "Super anti-gay and hateful," and included the musician telling the crowd "You can go on Twitter and say 'Michelle Shocked says God hates fags.'"
From Wonkette's Rebecca Schoenkopf:
Sorry, fellow 1980s protesters against "nuclear war" and "nuclear power" and "whatever else we were protesting about in the 1980s oh yeah we remember now it was Iran-Contra." You are now going to have to throw away your cassette tape of "Short Sharp Shocked," which was the soundtrack to all those protests, because Michelle Shocked, who used to come to those protests and play the git-tar, has gone off the fucking rails talking about fags and hating fags and the proper non-care and non-feeding of fags, and how gay marriage will destroy the world.
So far, there are only Twitter reports on Shocked's rant, but one of the Twitterers, Matt Penfield, says he was live-tweeting the show onstage for Michelle Shocked:
That was fuck-ing cra-zy! I was tweeting Michelle Shocked's set onstage (for her). All cool. 2nd set, she got up went full hate speech.

@taramurtha not sure. I was onstage, so didn't get any of it on video.
Audience member Lisa Hubbert tweeted Penfield "@TheGuapo Great job tonight. Was following until "the incident" when we had to leave. You were courageous to take on the challenge."
Penfield replied "@lisahubbert Thanks, Lisa. We bailed once it was clear what was happening. Upsetting."
He continued:
Eerie foreshadowing at Michelle Shocked show–before the show she talked about how "people seem like your friends then they turn on you"

(asked if the rant could have been ironic) @JamesHinckley2 Totally sincere. Super anti-gay and hateful.

@lisahubbert It was a weird vibe and that she was going deep religion, but I was worried we weren't going to see a show. 1st set was solid.

@madfoot It was quite a show. Not what I expected (<–understatement)

@ultramundane I know what you mean. Very hard to make sense out of what happened. Feels like we were (very briefly) emotional hostages.

@warrenellis @Queerty @mshocked Music was good. Hate speech was excruciating. 2nd set became a hostage situation–luckily we could all leave

@warrenellis @queerty @mshocked Respect to the crowd for voting with their feet.
During the show, Shocked's official Twitter feed made this ironic declaration: "Everybody in the audience at this Yoshi's show, make sure you take a second and tweet Michelle a note! She's crushing it."
Later, Shocked tweeted "Truth is leading to painful confrontation #shortsharpshocked"
Michelle Shocked's official website lists publicist Cary Baker as her contact person, but please don't bother him about this report. "I have not worked with Michelle Shocked in four years," he said via email. Told that he's still listed on her website, Baker said "I am aware of that and I have asked her to change it immediately. A horrible comment and the last thing I need after a sleepless week at SXSW."
Aside from Shocked's weird Occupy Westboro Baptist Venn diagram, here's the strange part. I haven't thought about Michelle Shocked since around 1989, when I saw her in the pages of Spin magazine, and decided to check her out. After listening to 30 seconds of Anchorage, I was done, and from that point on, my only real exposure to Shocked consisted of photos of her intriguingly androgynous look in the occasional Rolling Stone festival roundup.
Then, about a week ago, I'm watching The Bourne Supremacy on cable, and I'm trying to figure out who one of the minor characters reminds me of. Then, it hit me: Gabriel Mann's Danny Zorn character was a damn close ringer for Michelle Shocked. That realization was followed by a fleeting curiosity about what ever happened to Michelle Shocked. Now, I know.
I don't necessarily "believe" in "God," but that's a damn weird coincidence, and one which taught me a little something about myself. The 1989 me just assumed that androgynous folk singer Michelle Shocked was gay, based mainly on the way she looked, and continued to assume that until this morning. Shame on me for that. If there is a God, I think he's trying to tell me that he doesn't hate "fags," but that even people who love them can always find room to grow. I'm sorry I assumed Michelle was gay, but either way, I'm sure God, if she exists, loves her.
Have a tip we should know? tips@mediaite.com