Following NYT Report, McConnell Says in Statement He and Trump Are Committed to 'Shared Goals'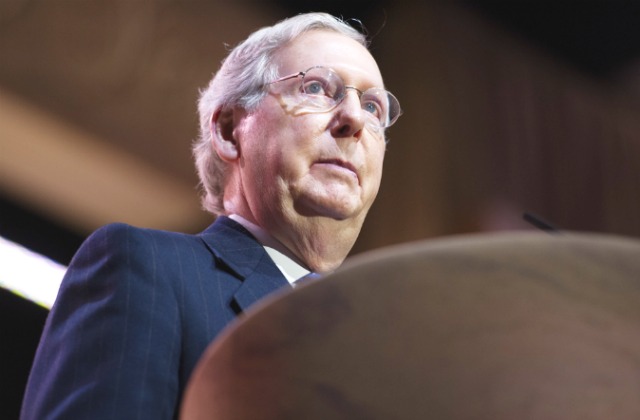 A day after the New York Times' in-depth report on the strained relationship between Mitch McConnell and President Trump, McConnell has put out a statement downplaying it and saying they're fine.
Just as a reminder, here are some key takeaways from the Times report:
The relationship between President Trump and Senator Mitch McConnell, the majority leader, has disintegrated to the point that they have not spoken to each other in weeks, and Mr. McConnell has privately expressed uncertainty that Mr. Trump will be able to salvage his administration after a series of summer crises.

What was once an uneasy governing alliance has curdled into a feud of mutual resentment and sometimes outright hostility, complicated by the position of Mr. McConnell's wife, Elaine L. Chao, in Mr. Trump's cabinet, according to more than a dozen people briefed on their imperiled partnership. Angry phone calls and private badmouthing have devolved into open conflict, with the president threatening to oppose Republican senators who cross him, and Mr. McConnell mobilizing to their defense.
During the call, which Mr. Trump initiated on Aug. 9 from his New Jersey golf club, the president accused Mr. McConnell of bungling the health care issue. He was even more animated about what he intimated was the Senate leader's refusal to protect him from investigations of Russian interference in the 2016 election, according to Republicans briefed on the conversation.

Mr. McConnell has fumed over Mr. Trump's regular threats against fellow Republicans and criticism of Senate rules, and questioned Mr. Trump's understanding of the presidency in a public speech. Mr. McConnell has made sharper comments in private, describing Mr. Trump as entirely unwilling to learn the basics of governing.
That first paragraph says "they have not spoken in weeks," but McConnell in his statement insists they are in "regular contact."
The statement says they are "committed to advancing our shared agenda together and anyone who suggests otherwise is clearly not part of the conversation":
NEW stmt from McConnell says "The President and I, and our teams, have been and continue to be in regular contact about our shared goals." pic.twitter.com/BYjXiNeIy5

— Frank Thorp V (@frankthorp) August 23, 2017
[image via Christopher Halloran / Shutterstock.com]
— —
Follow Josh Feldman on Twitter: @feldmaniac
Have a tip we should know? [email protected]
Josh Feldman - Senior Editor