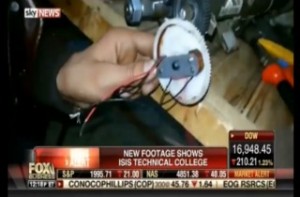 Eight hours of footage has been uncovered of "what is being called a 'jihadi technical college,'" thanks to the Free Syria Army and Sky News.
I have some good news: it is only "being called a 'jihadi technical college'" by Fox Business and Sky News (and now Mediaite, I suppose).
Here is the bad news: Unfortunate moniker aside, the footage is still very much in existence, and you can see some of it below.
The news is being broadcast on Fox Business as well as posted to the Fox News site. Online, they have painted a more detailed picture of what the footage means. Fox says that the training site is located in Raqqa, Syria, where scientists affiliated with the Islamic State have created the type of thermal battery required for surface-to-air missile systems. Prior to the release of the video, this type of technology had been considered impossible to recreate for any organization without a dedicated military. Building the weaponry was somewhat feasible, but storage and battery maintenance were out of the question.
What's more, the scientists appear to be hard at work on a remote-controlled vehicle that will operate as a mobile bomb of sorts, complete with a mannequin in the driver's seat that is capable of producing a heat signature comparable to that of real human beings. This will enable these vehicles to slip into secured areas undetected.
This training facility is no secret in Raqqa and was created to aid in the planning and implementation of attacks on Europe, in particular.
Image via screengrab.
For more from Lindsey, follow her on Twitter.
Have a tip we should know? tips@mediaite.com