For Political Commentators, Virginia's Election Means Whatever They Want It to Mean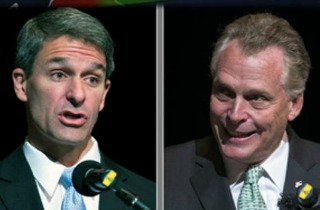 Virginia Attorney General Ken Cuccinelli's loss to former Democratic fundraiser Terry McAuliffe on Tuesday in the race to replace Old Dominion's Republican Gov. Bob McDonnell carries with it grave and far-reaching political implications. What those implications may be, however, varies dramatically depending on whom you ask.

In fact, the divergent reactions to that race's result and the signal it sends to political observers appears to have been more informed by a number of individual political commentator's preconceptions than dispassionate assessment of the facts on the ground. The heavily favored McAuliffe's 2.5 point victory over Cuccinelli apparently means whatever the observer wants it to mean.
For some, the race was a referendum on the Affordable Care Act. But whether the ACA won or lost depends, it would seem, on whether the author wishes it to succeed or not.
"The results are in. Cuccinelli has lost. And Obamacare, therefore, has won," Business Insider's Josh Barro asserted. "Even in an election that the Republican candidate was deeming to be a "referendum on Obamacare," in a state where Obamacare is not popular, against a Democratic nominee whose key career accomplishment is unusual success at influence peddling, the Republican nominee lost."
Barro's assessment is shared by Salon's Brian Beutler. "The truth is that if Obamacare were as bad as Republicans have convinced conservatives it is, McAuliffe probably would have lost," he insisted. "Conservatives believe — need to believe — that supporting Obamacare implementation is similarly disqualifying. But it just isn't."
These declarations of fealty to The Great Project aside, there is a hint of merit to their arguments. But they dismiss what many conservatives who have also adopted the "Virginia as Obamacare referendum" theme are stressing: that polls suggested McAuliffe was headed for a double-digit blowout just before the ACA's flawed implementation began to dominate the headlines.
"Obamacare single handedly — only a slight exaggeration — turned what should have been a landslide into a cliffhanger," syndicated columnist Charles Krauthammer said in a segment on Fox News Channel on Wednesday. He added that, unless the roll-out improves, Virginia's gubernatorial election is likely a harbinger of things to come. "And unless they stop the avalanche here, the Democrats are going to get buried in this," Krauthammer concluded.
"Obamacare is toxic. Democratic senators up in either 2014 or 2016 are probably terrified at what happened in Virginia," GOP strategist Michael McKenna told The Washington Times.
Or, maybe, the Virginia election was a statement about the state of the economy. Those embracing this theme have also framed their analyses along their own partisan lines.
"[T]he issue that a 45% plurality of Virginians ranked first was, once again, the economy. With a Democrat in the White House and unemployment at 7.2% as of September (the October numbers will be released Nov. 8), the economy was always going to hurt McAuliffe," wrote MSNBC analyst Tim Noah in an effort to explain why McAuliffe's projected blowout did not materialize. "The economy may also explain why Cuccinelli won the state's independents, 47-38%, even though many of these voters were expected to be turned off by Cuccinelli 's extreme views on abortion and climate change."
For conservatives, apparently, the election in Virginia is indicative of one of two things: the tea party is not a viable political entity or the Republican Party's moderate establishment would rather sabotage candidates they do not like than win elections.
"Reagan conservative Ken Cuccinelli lost his bid for the Virginia governorship because the patrician, turf-protecting Republican Party establishment in his state wanted him to lose," American Thinker's Matthew Vadum pronounced. "What happened to Cuccinelli wasn't some back-room conspiracy shrouded in smoke and euphemisms; it was a conscious, overt effort to do serious damage to a Tea Party standard-bearer."
"The moderate branch of the Republican Party turned its back on Cuccinelli, and that hurt him big time," said ForAmerica Chairman Brent Bozell. "When this is all over, win or lose, there's got to be a conversation about that."
"Reports that the Republican National Committee spent $3 million in 2009 to help the Republican nominee, compared to $1 million this time, tells the story," Tea Party Patriots' national coordinator Jenny Beth Martin told The Daily Caller, adding some data to lend this theory credibility.
Of course, the opposite view prevails among those in the Republican Party's moderate wing. Bloomberg provides a report on Thursday quoting a number of Virginia voters who viewed Cuccinelli as simply being too conservative for his increasingly purple state.
When opinions on an issue are this divergent, they are usually more instructive of the motives of their proponents than of the particular outcome they seek to explain. As is usually the case, electoral postmortems which focus on turnout statistics and voter preferences present a more compelling case for why Cuccinelli lost on Tuesday.
Real Clear Politics analyst Sean Trende identifies the potential "shy Cuccinelli effect," in which voters may have preferred to tell pollsters they did not intend to support the attorney general when, in fact, they always did. The Guardian's Harry Enten notes that, while GOP'ers should be concerned about their loss in Virginia, McAuliffe winning young voters (18 – 29) by only 5 points should positively terrify Democrats who have been banking on an aging GOP electorate spelling their ultimate doom in a generation or less.
These arguments are more persuasive than the predetermined conclusions some commentators are passing off as analysis with the intention of advancing a cause or nursing a grudge.
Yes, Republicans dismiss Cuccinelli's loss in Virginia at their own peril. McAuliffe's victory defies history. Furthermore, the Old Dominion attorney general tied his brand to the tea party early in his career – his fate was linked to that political movement's increasingly toxic brand.
But Democrats and progressives who suggest that voters went to the polls on Tuesday to express their satisfaction with the ACA are kidding themselves. The Democrats in Congress up for reelection in 2014 who are eagerly advancing stopgap measures to mitigate the damaging political effects of the ACA's roll-out apparently do not share their conviction.
Apparently, Virginia's gubernatorial election is a canvas onto which a number of political commentators have cast their hopes. But when an event lacks a clear defining feature and requires tortured divination in order to determine how it serves as a forecast for future outcomes, it probably means quite little.
[Photo via AP]
— —
> >Follow Noah Rothman (@NoahCRothman) on Twitter
Have a tip we should know? tips@mediaite.com