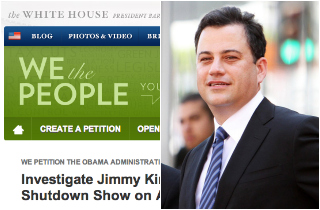 The White House will have to address a recent Jimmy Kimmel Live bit, after a petition on We the People, the White House petition site, reached the necessary 100,000-signature threshold requiring a response.
The controversy stems from a segment in which Kimmel emphasized the juvenility of the government shutdown and debt ceiling crisis by gathering several six-year olds to hammer out a solution. Alas, one mini-pundit suggested we eradicate our debt to the Chinese by "killing all the people in China," drawing criticism after the episode aired.
The petition, which is over 101,000 signatures as of this writing, reads in its entirety:
I was very disturbed by Jimmy Kimmel's 'Kids Table' show. It was aired on ABC recently and talked about killing all the Chinese so that the states do not need to pay back their debts to China. The kids might not know anything better. However, Jimmy Kimmel and ABC's management are adults. They had a choice not to air this racist program, which promotes racial hatred. The program is totally unacceptable and it must be cut. A sincere apology must be issued. It is extremely distasteful and this is the same rhetoric used in Nazi Germany against Jewish people. Please immediately cut the show and issue a formal apology.
Both ABC and Kimmel himself have already apologized for the bit, and indicated that the segment will be cut from future broadcasts, the two demands made in the petition.
The White House has thirty days to respond.
Watch the original video below, via South China Morning Post:
[h/t Deadline Hollywood]
[Image via Ace Showbiz, White House]
——
>> Follow Evan McMurry (@evanmcmurry) on Twitter
Have a tip we should know? [email protected]