Former Bush Official Duped into Thinking U.S. General Joins Fake Mercenary Group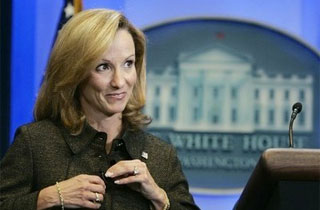 Earlier today, CNN National Security correspondent Frances Townsend found a glowing article announcing that Marine Gen. James "Mad Dog" Mattis, the former Commander of the U.S. Central Command, was now the CEO of a non-profit, "Soldiers Without Borders," and excitedly tweeted it out:
"@DuffelBlog: Mattis Named CEO Of 'Soldiers Without Borders' Non-Profit http://t.co/7ejy70NJjf" a great American patriot and hero!!

— Frances Townsend (@FranTownsend) July 18, 2014
One problem: she cited the military's version of The Onion, and the organization is named after a fictional mercenary group from a video game.
Duffel Blog is a satirical military news site, and the article is full of references to Metal Gear Solid. In the video game, the group is known as Militaires Sans Frontières, and is known for international piracy and "questionable tactics on the battlefield."
But even if she didn't know anything about Metal Gear Solid, it's evident that Townsend didn't actually read the article, which says things like this:
"There are lots of 'Without Borders' organizations. Doctors, Lawyers, Reporters. What we realized was, what about those soldiers whose war ended, who no longer have the opportunity to carry out their beloved profession? Under the guidance of General Mattis, Soldiers Without Borders will allow those veterans to once again visit decisive, remorseless peace on needy and deserving recipients around the globe."
People on Twitter called her out, but as of now, the tweet is still up. We give it two hours for her to delete the tweet out of embarrassment.
[h/t Gawker]
[Image via Frances Townsend/Twitter]
—
>> Follow Tina Nguyen (@Tina_Nguyen) on Twitter
Have a tip we should know? tips@mediaite.com