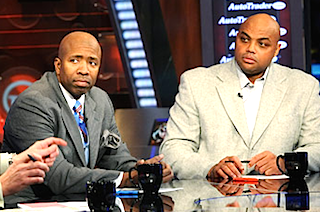 Kenny Smith, a former NBA player who currently serves as an on-air analyst for TNT's Inside the NBA, responded to recent comments by his fellow TNT commentator Charles Barkley about race and police brutality with a strongly-worded open letter published Wednesday night on USA Today's For the Win blog.
In the letter, Smith begins by praising Barkley basketball career, admitting that he was the "greatest Power Forward of all time" and the "most entertaining person in sports television." But, he adds, "what I consistently find interesting is how writers and media members view your insights in politics, and now race relations, with the same reverence as your insights in sports."
He continues:
They did it in the Trayvon Martin trial and now with Mike Brown and the decision in Ferguson. It's not that you shouldn't ever have an opinion, but you are often quoted alongside the likes of Al Sharpton and even President Obama. I would hope that Sharpton or President Obama would never be referenced with you when picking the next NBA Champs!

The body of work that our Black Civil Rights leaders put in by planning, executing and activating does not justify you being in the conversation. While your body of work on the court very few compare to nor should be mentioned when you are giving your expert analysis. Again, I respect that you have an opinion on Ferguson. And here's mine.
Smith goes on to examine why so many African-Americans have such a deep "distrust" for police and the legal system in this country. On Barkley's word of choice to describe those who rioted in Ferguson, Missouri last week, Smith writes, "It's not that they are 'scumbags', their emotions won't allow them to rationally think through their anger. I applaud that you have done a great job in your anger management in recent times … but not always."
Read the full letter at ftw.usatoday.com.
Watch a clip from Barkley's interview with CNN below:
[Photo via ESPN]
— —
>> Follow Matt Wilstein (@TheMattWilstein) on Twitter
Have a tip we should know? tips@mediaite.com