Former News of the World Editor Paid By Paper While Working For Conservative Party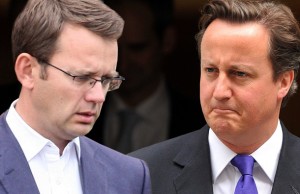 One of the major players in the continuing News of the World scandal has been former editor and Prime Minister aide Andy Coulson. He has consistently denied any knowledge of phone hacking while he was at the paper, while taking responsibility for any wrongdoing that took place under his editorship. Now details have emerged that Coulson was receiving payments from his former employers while he was in the service of the Conservative Party.
After departing the paper in early 2007, Coulson received a severance package that included two years' salary and other benefits. Later that year, he was appointed to be the Director of Communications for the Conservative Party, while David Cameron was leader of the opposition. Coulson was continuing to get paid by News International while he worked for the party, and according to the Independent, the Electoral Commission is being urged to investigate whether the organization was "covertly funding the Conservative Party" during that time period.
A party spokesman denied anyone had knowledge of Coulson's payments at th time, while Labour MP Tom Watson continued to probe the connection between the Murdoch empire and the prime minister.
"Did anyone at the Conservative Party know about these payments to Andy Coulson? If these were discretionary payments, they must surely constitute an undeclared donation to the Conservative Party. I will be asking the Electoral Commission to investigate."
Coulson continued to work as Cameron's director of communications when Cameron became the Prime Minister, but resigned several months later when the phone hacking scandal became a big story and Coulson had to sever his ties to the PM.
h/t The Independent
Have a tip we should know? tips@mediaite.com
Josh Feldman - Senior Editor