Former News Of The World Managing Editor Arrested For Conspiring To Intercept Communications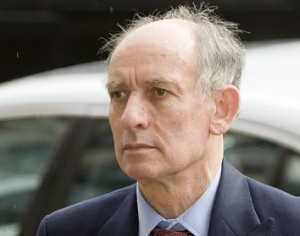 The Guardian reports this morning that Stuart Kuttner, former managing editor of the now-defunct News of the World and a man, it has been said, whose "DNA is absolutely integrated into the newspaper which he has represented across the media with vigour" has been arrested in the still-widening phone hacking and police bribery scandal. The Guardian's Amelia Hill reports Kuttner, 71, did not know when he reported to a London police station for questioning that he was to be taken into custody. "Kuttner is believed to have been arrested on suspicion of conspiring to intercept communications, contrary to section 1 (1) of the Criminal Law Act 1977, and on suspicion of corruption contrary to section 1 of the Prevention of Corruption Act 1906." (The paper notes those are the same charges facing former News International chief executive Rebekah Brooks)
Kuttner left News of the World in 2009 without explanation:
Kuttner's role as the public face of the News of the World proved to be key to the tabloid under the editors, Rebekah Brooks – then Rebekah Wade – and her replacement, Andy Coulson, both of whom were reluctant to talk to the media.

When Brooks's "Sarah's Law" campaign caused public hysteria in some towns and cities across the UK, prompting some Portsmouth residents to burn the homes of suspected paedophiles, it was Kuttner who faced the cameras.

He also played a role in the paper's dealing with Sara Payne in the years after her eight-year-old daughter, Sarah, was abducted and murdered in July 2000.
It's believed Kuttner's arrest brings to 11 the number of people facing charges in the inquiry.
Have a tip we should know? tips@mediaite.com