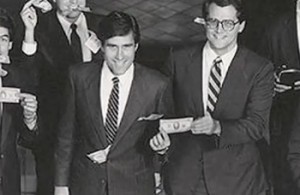 After many, many months of attacking GOP presidential hopeful Mitt Romney as a flip-flopping political weather vane with  "no core," former Obama spokesman Bill Burton's Priorities USA Action PAC has taken a new tack, supported by a six-figure social media push, that paints the former Massachusetts Governor as a man with a plan, a very bad plan, for a place called Mitt Romney's America.

The focal point of the campaign is a slickly-produced web ad that one-ups even Rick Perry's cinematic efforts, with a propulsive, Inception-esque score that accompanies a kitchen sink's worth of sinister visuals and jittery Romney quotes like, "Corporations are people" (somewhere, Charlton Heston is proud), and "Don't try to stop the foreclosure process. Let it hit the bottom."
Rather than mimic the empty sizzle of a Michael Bay trailer, though, Mitt Romney's America attenuates its style to a hipper horror/suspense sensibility, so while it is comically overwrought, it's winkingly so.
The ad is also noteworthy for its use of Fox News clips and the complete absence of the flip-flop theme. Perhaps the could have appended the clip with the disclaimer, "Don't worry, though. In Mitt Romney's America, a new, completely different Mitt Romney's America is just a coin-flip away!"
The ad is supported by a strong social media push, with heavy promotion on Twitter and Facebook.
For those of us who remember the President's 2008 campaign, the hallmark of which was a desire to at least appear to be above the fray, an ad like this is an indicator that not only are the gloves off this time, the brass knuckles are on.
The good news for Romney is that Burton and the Obama campaign, which are not connected, have been focused on Romney since Day Zero, and this volley is just further confirmation that the political pros behind the President's reelection see Romney as the eventual nominee. They've spent precious little time on frontrunning blips like Michele Bachmann and Rick Perry, and none at all on current leader Herman Cain. If these guys aren't worried about Cain, maybe Romney needn't, either.
The bad news is, of course, that once he does secure the Republican nomination for president, Romney will have to face off against two opponents: President Obama, and Mitt Romney.
Here's the ad, from Priorities USA Action:
Have a tip we should know? tips@mediaite.com