FORTUNE/TIME/CNN Global Forum: World Leaders (And Katie Couric) To Convene In South Africa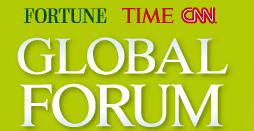 Soccer teams from countries all over the world have already gathered in South Africa to compete in the World Cup, but at the end of the month the country will play host to different types of national representatives, like heads of state and CEOs of the world's biggest companies. Did someone say boondoggle?
Officially, they aren't going to cheer on their country's team in a football match, but rather to discuss business, economic, and social opportunities in developing nations at the 11th annual FORTUNE/TIME/CNN Global Forum in Cape Town. The forum, dubbed "The New Global Opportunity," runs from June 26 to 28, during which time attendees will explore the "extraordinary promise of the developing world" with special emphasis on Africa.
The guest list is actually remarkably impressive, including some of the world's greatest leaders and thinkers (so get ready for some name dropping): Former President Bill Clinton will be there, along with French Finance Minister Christine Lagarde and Former Prime Minister of Pakistan Shaukat Aziz. Beyond world leaders, chairmen and CEOs of multinational companies like Coca-Cola, AstraZeneca, and Motorola will also be in attendance.
Being organized by FORTUNE, TIME, and CNN, media personalities – including Katie Couric and Charlie Rose – will be involved, with FORTUNE managing editor Andy Serwer, TIME managing editor Richard Stengel, and CNN lead political anchor Wolf Blitzer acting as moderators and presenters. 17 members of the FORTUNE 500 list and 20 TIME 100 honorees will speak at the forum.
According to Stengel:
"The New Global Opportunity represents the idea that global economic power is shifting to the developing world and that these markets are more than just frontiers of growth; they are the sources of new ideas and models that can be applied everywhere. Growth must be inclusive and sustainable. And the role and potential of those who have been marginalized in the past-the poor, especially women and girls-will only grow."
With the whole world currently watching South Africa, this forum is in the right place at the right time. We might not see Katie Couric score on a penalty kick against Bill Clinton, but hopefully some good comes out of this.
Have a tip we should know? tips@mediaite.com