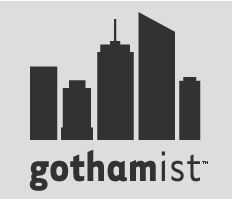 The multi-million dollar deal for Rainbow media to buy Gothamist and its family of local city blogs has fallen apart and, yesterday, the Village Voice wrote a post theorizing that most of the blame fell on an article and a tweet that Gothamist founder Jake Dobkin wrote criticizing Gothamist advertiser The New York Times. However, a source very close to the deal has told us that "90%" of the blame actually falls on a joke by Foster Kamer that was printed in the Voice. As we know, that joke already cost the Village Voice $1M, but now it seems it cost Gothamist more than $6M. This has to go down in history as the most expensive dick joke ever written.
The commonly held theory right now is that Rainbow got uneasy hiring someone (Dobkin) who would mock his own advertisers and that ended the deal. Our source tells us that the Times fiasco was only 10% of the problem. While Dobkin was "no angel," had the problems been entirely with him, our source says that Rainbow could have merely purchased Gothamist and handed Dobkin his walking papers. Instead,our source claims that the dissolution of the deal was further fall out from James Dolan's apoplectic rage over Kamer's joke that Dobkin would soon have Dolan's "cock in his mouth" once the Gothamist/Rainbow deal went through.
In the timeline our source gave us, Dolan had never even heard of the deal until Kamer's article. The talks with Gothamist had been overseen by Evan Shapiro, president of IFC tv and the Sundance Channel, who wanted to increase their online presence. However, once Dolan read Kamer's piece, he was so furious that he wanted to destroy everything related to it, including the deal. Our source even claims that all Rainbow employees involved with the deal were afraid for their jobs even though neither they, nor Gothamist, had anything to do with the joke and that Dobkin and Shapiro had to literally meet in disguise when Shapiro shared the bad news.
We also hear that Gothamist folks and Kamer are still on good terms. In fact, a source close to Gothamist (and this might just be spin) are glad that the deal fell apart now because, had something ended it a few months later, the legal fees in the eventual lawsuit would have cost much more. Gawker also theorizes that, while Dobkin lost the money from the deal, this might be better for Gothamist in the long run.
So to recap, if this is really the way this went down, Kamer's one little "cock in the mouth" comment has cost a whopping $7 million. While Kamer has publicly stated that he feels terrible about all of it (especially the $1M he cost his actual employers) knowing that you are the guy that cracked $7 million dick jokes has to make you feel pretty well endowed.
Have a tip we should know? tips@mediaite.com