Fox Business Host Lou Dobbs: Sessions 'Needs to Resign' as He's 'Fallen Ill' and Is 'Incapacitated'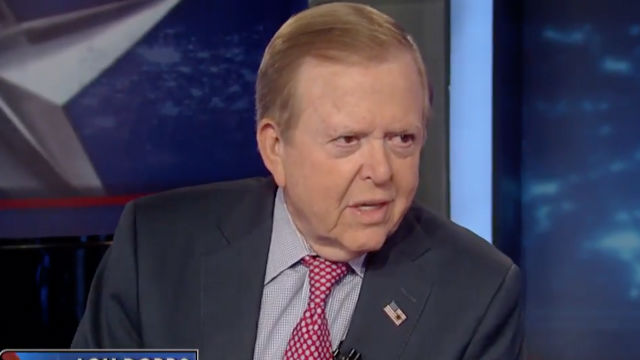 So this happened today.
Taking to Twitter this morning, Fox Business host Lou Dobbs called on Attorney General Jeff Sessions to resign, claiming that the AG is "ill" and "incapacitated" while stating that his resignation is necessary for the "good of the country."
Sessions has fallen ill, he's incapacitated in some fashion, or he's been coopted or captured: to preserve any dignity, for the good of the country he needs to resign. #MAGA @realDonaldTrump #TrumpTrain #AmericaFirst https://t.co/D0q4ff2JVI

— Lou Dobbs (@LouDobbs) March 3, 2018
As you can see in the tweet above, Dobbs was quote tweeting Rep. Matt Gaetz (R-FL), one of Capitol Hill's loudest critics when it comes to the Russia probe. Meanwhile, Gaetz used his tweet to link to an article from far-right conspiracy site The Gateway Pundit.
Dobbs has assailed Sessions in recent months over the Russia investigation, calling for the AG to retire while criticizing his leadership of the Justice Department. Needless to say, Dobbs has been one of conservative media's leading voices when it comes to claiming there is an FBI/DOJ conspiracy against President Trump, claiming earlier this year that it may be time to "declare war" on the "Deep State."
Needless to say, Dobbs was roundly mocked on Twitter over his Sessions tweet:
Lou Dobbs has fallen ill, he's incapacitated that's why Rupert is keeping him in the network equivalent of the willowbrook mental hospital, Fox Business for the hopelessly racist. https://t.co/TqAqVTCZBS

— Molly Jong-Fast?? (@MollyJongFast) March 3, 2018
At what point does it become immoral to work at a network that gives Lou Dobbs a platform? pic.twitter.com/7o7nvy97N4

— Brandt (@UrbanAchievr) March 3, 2018
Speaking of dignity, remember when Lou Dobbs still had some? https://t.co/aHNYdVyqAY

— Kevin M. Kruse (@KevinMKruse) March 3, 2018
lou dobbs quote tweets matt gaetz sharing a jim hoft article based on an interview that gaetz did with jeanine pirro who was in for sean hannity. pic.twitter.com/fBS7rNUumq

— John Whitehouse (@existentialfish) March 3, 2018
This is a real tweet from a Fox host: https://t.co/MuowbXqQme

— Oliver Darcy (@oliverdarcy) March 3, 2018
[image via screengrab]
—
Follow Justin Baragona on Twitter: @justinbaragona
Have a tip we should know? tips@mediaite.com