Fox Guest Thinks You 'Misunderstood' Her Elliot Rodger 'Homosexual Impulses' Comment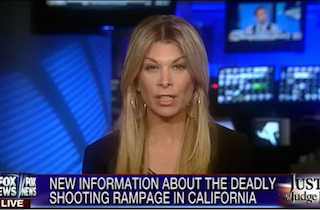 Psychotherapist Dr. Robi Ludwig has been popping up all over TV news this weekend after 22-year-old Elliot Rodger killed seven people, including himself, in a murderous rampage near UC Santa Barbara Friday night. But it was one speculative comment on Fox News that has drawn the most attention.
Saturday evening, Ludwig wondered aloud of Fox's Justice with Judge Jeanine Pirro if Rodger was somebody who was "trying to fight against his homosexual impulses?" Instead of the conventional wisdom that Rodger targeting young women because he found they were not attracted to him, as he laid out in his video and written manifestos, Ludwig asked if he was "angry with women because they were taking away men from him."
On Monday, Ludwig attempted to address some of the criticism she had received by posting a hashtag-filled message on Facebook, which notably misspelled the killer's name — twice:
A look at some of the top comments on the post shows that "those who felt offended" are still feeling offended.
One user wrote:
I'm sorry Doctor Ludwig but, what you said was crystal clear. There was no ambiguity in what said nor was there any doubt as to your implication: you clearly wanted to equate, or at the very least, conflate homosexuality with violence and you did so with forethought and intent. I trust the APA or other governing body will be looking to see what ethics violations are appropriate for charge. You may be a Doctor, but I must confess to wondering if your degree came from a Cracker Jack box.
Another added:
How about "I am sorry my internalized homophobia came into play and I said something offensive" rather than" I am sorry others FELT offended." The latter is not an apology. The latter indicates your continued inability to own, understand your error and your internalized homophobia that provoked it and does not apologize nor even acknowledge your error and internalized homophobia that provoked it.
Watch the original video below, via Fox News, in case you missed it:
[h/t HyperVocal]
[Photo via screengrab]
— —
>> Follow Matt Wilstein (@TheMattWilstein) on Twitter
Have a tip we should know? tips@mediaite.com