Fox News Analysis on Loyal Trump Supporters Asks: 'Would You Even Care If He Was Guilty?'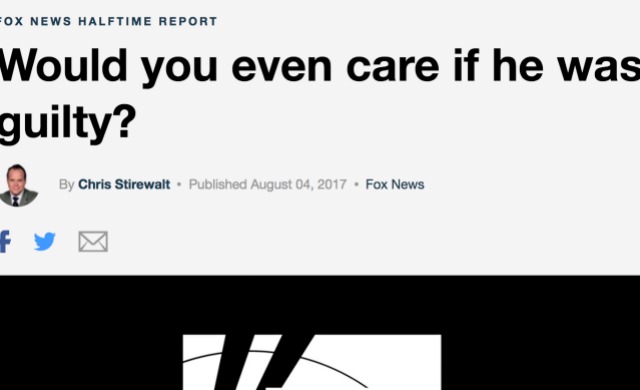 Fox News politics editor Chris Stirewalt wrote an analysis of the loyalty President Trump's base has for him with this headline…
Would you even care if he was guilty?
Now, before you ask, no, Stirewalt was not writing this as a diehard Trump fan. Back in May he wrote of Trump's fans that "in life and in politics there is a line between defending someone and enabling them."
His Halftime Report yesterday had this pretty blunt assessment of that very loyalty:
The stock market is up, unemployment is down and the economy seems to be picking up some steam. The streets are mostly safe, the nation is mostly secure and the world is mostly at peace.

So does it matter to you whether or not the president is a crook? The answer for a lot of Americans may be no.
He brings up how many of Trump's supporters either don't believe Russia interfered in the election or just don't care. Just this week the President decried the Russia "hoax" to a cheering crowd.
"You can attribute this disconnect to blind followership," Stirewalt writes, "'alternate facts,' or mind-boggling double talk from the administration. But there may be something else at work here: Many of Trump's supporters wouldn't care, even if they knew it was true."
He continues:
As we hear Trump devotees wail that colluding with a hostile foreign power isn't a crime or cavil that Mueller & Co. might find other crimes unrelated to Russian disruption, what we are really hearing is their acceptance of wrongdoing. This is the big: "So what?"…

Even though this view represents a minority of a minority, it is still pretty strong evidence of an unwell national civic culture. It is also like money in the bank for Trump.
Despite his straightforward analysis, the headline "Would you even care if he was guilty?" invited some choice reactions:
Fox News: Leaks are bad (now) because it's against the law.
Also Fox News: It's okay if Trump did treason.https://t.co/OZogoYaW0d

— Joe Berkowitz (@JoeBerkowitz) August 5, 2017
Fox News asks: who cares if the president is a criminal? Yes, they really did. https://t.co/ZNTSS29lvo

— Charles Johnson (@Green_Footballs) August 5, 2017
This is the way a network ends
This is the way a network ends
This is the way a network ends
Not with a bang…https://t.co/3QW8BfSrwe

— C. Robert Cargill (@Massawyrm) August 4, 2017
So this is where we're at, apparently. https://t.co/nTUDMonH26

— Scott Wampler™ (@ScottWamplerBMD) August 4, 2017
[image via screengrab]
— —
Follow Josh Feldman on Twitter: @feldmaniac
Have a tip we should know? tips@mediaite.com
Josh Feldman - Senior Editor