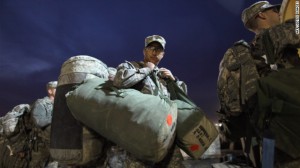 The last United States soldiers stationed in Iraq left for home today, marking the final chapter in the nine-year war. Over 4000 Americans died over the course of those years, as well as thousands more Iraqis. There was little fanfare to acknowledge the war's end, and Iraqi citizens were divided on their reactions to the troop withdrawal. Some cheered that the occupation was over, others were more grateful for the U.S. presence in Iraq, but believed the war had gone on too long.
The Associated Press details how the slow process of winding down U.S. presence in Iraq was carried out.
The final troops completed the massive logistical challenge of shuttering hundreds of bases and combat outposts, and methodically moving more than 50,000 U.S. troops and their equipment out of Iraq over the last year — while still conducting training, security assistance and counterterrorism battles.

As of Thursday, there were two U.S. bases and less than 4,000 U.S. troops in Iraq — a dramatic drop from the roughly 500 military installations and as many as 170,000 troops during the surge ordered by President George W. Bush in 2007, when violence and raging sectarianism gripped the country. All U.S. troops were slated to be out of Iraq by the end of the year, but officials are likely to meet that goal a bit before then.

The total U.S. departure is a bit earlier than initially planned, and military leaders worry that it is a bit premature for the still maturing Iraqi security forces, who face continuing struggles to develop the logistics, air operations, surveillance and intelligence-sharing capabilities they will need in what has long been a difficult region.
Many are now looking at what will happen to the war-torn nation now that United States forces are no longer there. Already, Iraq is facing a political crisis between the Sunni coalition and the Shiite prime minister Nouri al-Maliki. President Obama is already planning to meet with al-Maliki to discuss the next stage of the relationship between the United States and Iraq.
Watch the report from Fox News below:
Have a tip we should know? tips@mediaite.com
Josh Feldman - Senior Editor