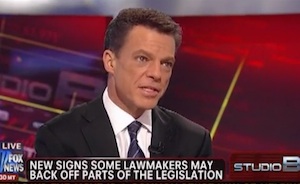 Regular viewers of Fox News' Studio B might have noticed that its host, Shepard Smith, has been lookin' a little different lately, going from what looked to be about average weight, to thin, to, now, maybe even a little gaunt.
"Shep," I call him, because we're friends, "Shep. What's with the weight loss?"
And we're not the only ones who've noticed. Smith's fans even expressed concern about his weight on Facebook: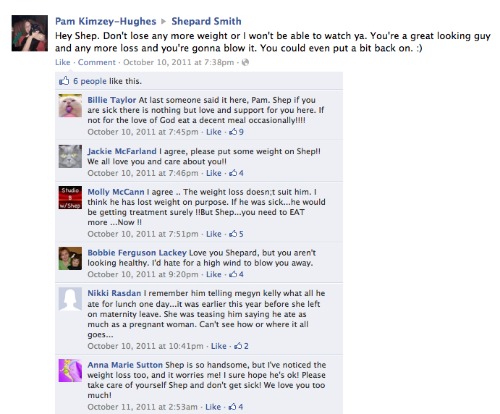 RELATED: Fox's Shep Smith Argues SOPA With Panel: 'I Will Laugh When You Find Your Butt In Jail'
Columnist Paula Froelich recently offered photographic evidence of her favorite anchor's weight loss, noting that "It's like he's melting away in front of our very eyes…"
And a NY Daily News article on Fox News' ratings milestone (a decade at number one, kiddos), describes Smith as a "recently slimmed-down anchor." The article's writer asked him what's going on:
One on-air impression in recent months is that Smith has dropped a lot of weight.

"I've lost too much," he says.

After years of eating cheeseburgers, Snickers bars and having a generally horrible diet, Smith was told by his doctor that he had sky-high cholesterol and high blood pressure. He's since cut out the junk and plays tennis three times a week. "I'm in the best shape of my life," he says, adding that his last medical report was great.
"The days of Twinkies and double cheeseburgers are over for Shepard Smith," announced TVNewser.
But surely a burger and a chocolate bar are ok once in a while, no? All things in moderation, Shep!
h/t NY Daily News
Have a tip we should know? [email protected]