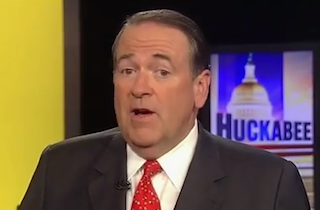 It's about that time that Fox News' paid hosts and contributors are going to have to start thinking seriously about whether they would rather continue on with the network or throw their respective hats in the ring for the 2016 Republican presidential nomination. Last week, Fox cut ties with Dr. Ben Carson after he made his ambitions abundantly clear. Now, amid speculation that host Mike Huckabee may want to get back into the political sphere, Fox is reportedly "evaluating his current status" with the company.
"We are taking a serious look at Governor Huckabee's recent activity in the political arena and are evaluating his current status. We plan on meeting with him when he returns from his trip overseas," Bill Shine, Fox's Executive Vice President of Programming, told Politico in a statement Wednesday.
Shine's comments were prompted by an in-depth Washington Post report on Huckabee's recent political activities. He is currently traveling around Europe with "more than 100 pastors and GOP insiders from early primary states," presumably testing the waters for a comeback. Upon his return, he is scheduled to meet with high-powered GOP donors in Las Vegas, New York, and California.
Then, of course, there is his strategically timed new book, God, Guns, Grits, and Gravy, set to drop January 20, but available for pre-order now
. The marketing materials say Huckabee "shines a light on issues such as religion, morality, individual rights, and political divisiveness" in the book, delivering "a realistic yet optimistic approach to moving America forward." The inevitable book tour could line up quite nicely with a potential campaign launch.
[Photo via screengrab]
— —
>> Follow Matt Wilstein (@TheMattWilstein) on Twitter
Have a tip we should know? tips@mediaite.com