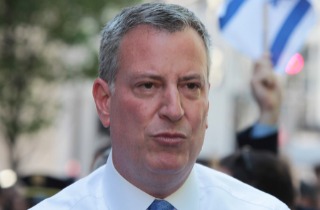 New York City Mayor Bill de Blasio wrote a piece for The Huffington Post this morning arguing that the reason Democratic candidates lost in the midterm elections was that they lacked any backbone and did not stand for progressive principles.
De Blasio argues that the American people very much agree with Democratic policies and the reason so many candidates lost is because they "lost sight of those core principles — opting instead to clip their progressive wings in deference to a conventional wisdom that says bold ideas aren't politically practical."
And in redder states, De Blasio says candidates never talked about issues like progressive taxation or expanding health benefits, so it's not certain that they were rejected because voters disagree with those particular policies.
He encourages Democrats to build more of a spine next time around:
I'm not blaming the individual candidates here. The strategies they employed are largely the making of Washington insiders who force-feed message points on candidates under threat of being written off by their national party infrastructure.
But we've tried it the Washington way time and time again — and seen the result. It's time for a bold, new approach — with campaign messages that are rooted in local concerns and core party principles; ideas that are morally just, intellectually honest, and sound public policy. In other words, a campaign plan that gives voters some credit, and has a real chance of success at the polls.
You can read de Blasio's full piece here.
[image via a katz/Shutterstock]
— —
Follow Josh Feldman on Twitter: @feldmaniac
Have a tip we should know? [email protected]
Josh Feldman - Senior Editor