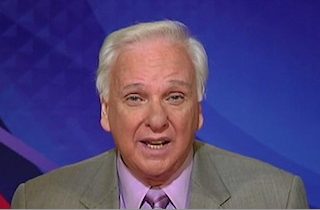 There's another big World Cup match today, which somehow means there is yet another column about the "anti-American" evils of soccer. First, Ann Coulter called America's growing interest in soccer "a sign of the nation's moral decay." Then, Kareem Abdul-Jabbar attempted a more measured approach, arguing that soccer "doesn't fully express the American ethos as powerfully as our other popular sports." Now, it's Fox News analyst Bernie Goldberg's turn.
Writing for The National Review, Goldberg expresses his own distaste for soccer by framing it as a liberal vs. conservative issue. After describing the sport as a "cure for insomnia," he writes that one of the reasons he doesn't like soccer is because of the people who do.
"For many Americans — almost always liberal elite Americans — soccer isn't really about soccer so much as it's about proving the superiority of the young over the old, of liberals over conservatives," Goldberg declares. He criticizes journalists like Peter Beinart and Fareed Zakaria who have pointed out that young liberals are more likely to enjoy soccer because they don't need America to be the best at everything.
Goldberg writes:
You see: Soccer is much more than a game that puts people like me to sleep. It's a bunch of guys running up and down a 'pitch' in short pants teaching us an important lesson — a lesson about how the tide is turning, about how the same people who embrace soccer embrace the idea that despite all the talk from those old right-wingers, America isn't so special after all.
Naturally, Goldberg ends his piece by quoting Coulter. "Turns out that soccer is teaching me a lot more about elite, liberal intellectuals than it'll ever teach me about the rest of the world," he concludes. "In fact, soccer has already taught me that smug, liberal elites are the single biggest reason I have no use for soccer, and that Ann Coulter isn't crazy when she says, 'Any growing interest in soccer can only be a sign of the nation's moral decay.'"
For all you liberal elites out there who love soccer and hate America, Brazil plays Germany in the first semi-finals match today at 4 p.m. ET.
[Photo via screengrab]
— —
>> Follow Matt Wilstein (@TheMattWilstein) on Twitter
Have a tip we should know? tips@mediaite.com