Fox's Perino Can Hardly Contain Herself as O'Reilly Calls Trump Audio 'Crude Guy Talk'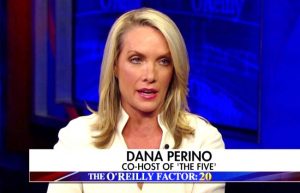 Tonight on Fox News, Bill O'Reilly covered the leaked audio and video of Donald Trump and Billy Bush making lewd comments about women's appearances and how easy it is to grope women after becoming famous. On his Twitter page earlier in the evening, O'Reilly made it clear how he would be spinning the Trump bombshell.
Anti-Trump forces release a private conversation where Trump talks about women & sex -what happens when you run for POTUS. More on FNC -BO'R

— Bill O'Reilly (@oreillyfactor) October 7, 2016
It was clear from his tweet that he was going to go after the Washington Post and other perceived "anti-Trump forces" that were covering the leak, but he did invite Dana Perino on the O'Reilly Factor to talk about what effect the video and audio will have on Trump's campaign.
Well, he didn't play much of that video or audio. Instead, he called it "crude guy talk" that didn't bear repeating. If you didn't know, the "crude guy talk" included Trump mentioning that famous men can "grab [women] by the p*ssy."
George W. Bush's former press secretary looked furious, but contained her anger as she said that yes, this will affect Trump.
O'Reilly framed this as a partisan attack. Other prominent conservatives, including Reince Priebus, Jeff Flake, and Jeb Bush, have spoken out forcefully against the comments made by the GOP nominee.
UPDATE –– 12:23 a.m. ET: Trump has apologized. Watch the video here.
[image via screengrab]
Editor's note: This post has been edited since its original posting – The headline was changed to better represent the segment
This is an opinion piece. The views expressed in this article are those of just the author.