Fox's Megyn Kelly and Dana Perino Team Up to Tear Down Trump For Treatment of Former Miss Universe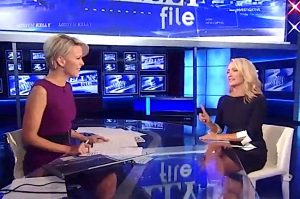 Fresh off of berating Kellyanne Conway for all but refusing to admit that her employer, Donald Trump, isn't doing well with women ahead of the election, Megyn Kelly brought out fellow Fox News host Dana Perino to talk about Trump's reported mistreatment of the former Miss Universe, Alicia Machado. 
Kelly and Perino discussed just how bad it is that the story has been dominating the press for 48 hours and Kelly reminded viewers that in August of 2015, she gave Trump the chance to prepare for future questions about his misogynistic statements. He spent nine months feuding with her because she asked him about them instead of getting ready for the inevitable moment Hillary Clinton would publicly ask him, too.
Perino sighed and agreed that Trump had plenty of time to prepare but simply didn't do it, which is why it was so easy for Clinton to lay a trap with Machado.
"Stop talking about women's weight altogether!" she suggested.
"If you want to increase your numbers with women, yeah, just stop telling us how fat we are!" chimed in Kelly. "As it turns out, it doesn't make us feel very good!"
"That might help…" added Perino.
Kelly finished off by bringing up the fact that Trump was recently classified as overweight in a much-touted doctor's assessment, which actually caused someone working on her set to laugh out loud.
"We definitely don't want to hear it anymore… bigly," said Perino, in what might just have been a nod to Trump's Trumpiest Trumpism.
[image via screengrab]
Have a tip we should know? tips@mediaite.com