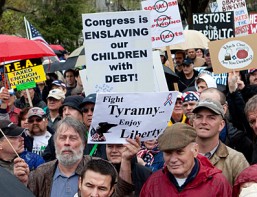 What is known is that the nearly all-white G.O.P. is so traumatized by race it has now morphed into a bizarre paragon of both liberal and conservative racial political correctness. For irrefutable proof, look no further than the peculiar case of its chairman, Steele, whose reckless spending and incompetence would cost him his job at any other professional organization, let alone a political operation during an election year. Steele has job security only because he is the sole black man in a white party hierarchy. That hierarchy is as fearful of crossing him as it is of calling out the extreme Obama haters in its ranks."
— Frank Rich continues to not pull any punches when it comes to the Tea Party movement, the GOP and race.
This week's column is a long tirade against Virginia Governor Robert McDonnell's botched attempt to make April 'Confederate History Month' — botched because he 'neglected' to include any mention of slavery in his declaration, and only did so under great pressure. Rich traces McDonnell's faulty memory back to the South's post-Civil War habit of reframing the war as having nothing to do with slavery and then connects that to recent claims that because the death threats and epithets (and spit) hurled at members of Congress were not captured on tape they were merely a "mirage."
Rich's tone may be a tad heavy-handed, but the point he is making about selective memory and the language of race has not been lost on others. Ta-Nehisi Coates at the Atlantic has been doing his own (must-read) celebration of Confederate History Month, which he launched with this excellent (and far more nuanced) post.
If the war actually weren't about slavery, I think all our lives would be a lot easier. But as I thought on it, my sadness was stupid. What undergirds all of this alleged honoring of the Confederacy, is a kind of ancestor-worship that isn't. The Lost Cause is necromancy–it summons the dead and enslaves them to the need of their vainglorious, self-styled descendants. Its greatest crime is how it denies, even in death, the humanity of the very people it claims to venerate. This isn't about "honoring" the past–it's about an inability to cope with the present.
Have a tip we should know? tips@mediaite.com