Frankly Foolish: Barney Frank Should Try Telling Parents Of 8-Year-Old Boston Victim 'It's Not The End Of The World'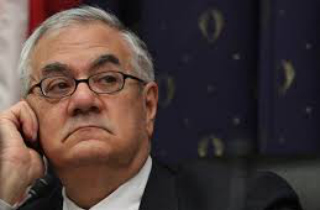 Recently ex-Congressman Barney Frank is one of my all-time favorite liberal lions (look up "off-the-cuff" in the dictionary and there's Barney), but liberals who go to town on the likes of Todd Akin, Ben Carson and company for all-star ignorance, have to hold people on the same side of their ideological fence to the same standard when engaging in ignorance. And boy did Barney Frank step in it Tuesday during his cable news appearances.
As a former congressman synonymous with both Massachusetts and national politics, cable news viewers glued to the coverage of the senseless Boston Marathon bombing might have looked forward to hearing some heartfelt analysis from Frank on the attacks that ravaged his state's capital city.
Unfortunately, he let viewers down during an interview with MSNBC's Thomas Roberts [emphasis mine]:
"I think that it's greatly hyperbolic," Frank said of the disaster. He added, "This is awful, people died and they deserve — their families — great sympathy. People are injured, they deserve the best we can give them, but this isn't the end of the world. We're not Afghanistan, we're not Iraq."
As a card-carrying liberal, I never imagined a statement from Barney Frank causing my stomach to turn, but this one sure did a number. After it sunk in, I found myself wanting to scream into the screen: "Barney, tell the parents who lost their eight-year-old son 'This isn't the end of the world,' or tell the still-unknown number of runners and bystanders, who as a reward for months of training and/or supporting a friend or family member, had one or both their legs amputated."
Tell the surviving children — whose day off from school spent cheering on strangers became a tragedy that stole their innocence — that "It's not the end of the world," and to just look on the bright side because at least you're not stuck on the side of a road in Afghanistan or Iraq.
If this wasn't tone-deaf enough, Frank then went on to top even the gun manufacturers' lobby — excuse me… the NRA — in the tragedy politicization game, turning the bombs in Boston into a call for higher taxes less than 24 hours after the attacks.
"This is very expensive for the city of Boston," Frank told Roberts on MSNBC. "I hope that we will then be able to find some revenue from the federal government, so that Boston doesn't have to pay for this absolutely necessary expenditure by cutting back on important services further down the line."
Roberts' reaction was spot on:
Do you feel like your capitalizing and making political hay of this event that happened"?
As usual, Rep. Frank was frank:
Yes, exactly, I'm talking common sense…I'm making an argument about reality.
He concluded:
I think this is an important teaching moment about what we need if we're going to live the way we want to live.
Earlier that morning, Frank also appeared on CNN's Starting Point and delivered a similar message to host John Berman. When asked by the host for his thoughts on the recovery effort, the former congressman instead decided to make his answer entirely about how thankful he is for robust, well-funded government and sniped that fiscal conservatism would likely have made the disaster worse.
Whether Frank is right or not about the Boston bombing serving as a case study against government austerity, the reality is that citing tax policy and politics when victims continue to lie in critical condition and families are still in a frenzy searching for information or loved ones is tone deafness exceeding even the worst fill-in-the-blank Republican presidential gaffe.
Sure, there are cases where "politicizing a tragedy" is not only appropriate, but necessary. When you look at the awful events that happened at Sandy Hook Elementary — and put it in a much larger context of a gun violence epidemic in America — politicians, pundits, and citizens have not only a right, but a responsibility, to call for action immediately after the massacre. After all, underneath tragedies like Sandy Hook, lies politics, including government inaction and blatant negligence when it comes to enforcing gun safety.
But the Boston Marathon bombing is not the same as Newtown, and fortunately for us, we have not had to deal with a successful large-scale terrorist attack on American soil since 9/11, unlike the countless gun massacres happening all over our country. The former congressman should have known that the time and place for political muscle is not less than 24 hours after what could be a coordinated foreign or domestic terrorist attack.
Frank should also be keenly aware that, in this country, freedom of speech carries weight. Whether a current or former lawmaker, the words a prominent public figure expresses on national television to describe a deliberate act such as this carry weight with everyone who listens and views, in America and around the world, on television and online.
Did Frank mean to belittle the victims or families who lost a loved one? Absolutely not. But in politics or life, what you meant to convey doesn't ultimately matter if your words end up inflicting damage. In fairness, Frank has apologized for previous thoughtless statements, including a controversial Trayvon Martin hoodie joke during a college commencement speech, and should be given an opportunity to clear the record this time.
And other lawmakers and public figures, regardless of political party or future ambitions, should learn a valuable lesson from Frank's foot-in-mouth moment. You might not be able to stop all tragedies from occurring, but we do control our reaction and the message that it sends out to the world.
A message that should be part of the healing, instead of adding salt to it.
— —
>> Follow Jordan Chariton (@JordanChariton) on Twitter
Have a tip we should know? tips@mediaite.com