Biden Vows 'Additional Executive Actions' On Guns From Obama 'Later This Week'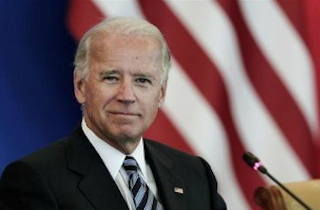 It hasn't been a good week for gun control advocates. Yesterday the Senate failed to pass a measure that would expand background checks. Then, this afternoon, Senate Majority Leader Harry Reid pulled the gun bill, saying they'd be taking a "pause" and returning to the bill at a later date. Vice President Joe Biden, however, offered some degree of hope — saying President Obama will be pursuing executive actions on the issue.
Biden discussed the matter on a conference call with "stakeholders," according to BuzzFeed (disclosing, "Press were not invited to the conference call; a participant provided BuzzFeed with access").
"Look I know you're going to say that I'm just being an optimist and I'm trying to put a good face on this. But you know I've been around here a long time and we've already done, because of you, some really good things," Biden said. "Number one, the president is already lining up some additional executive actions he's going to be taking later this week."
Specifically, the measures will be geared toward efforts such as aiding schools that want to hire armed guards and training teacher to identify potential shooters. "We also are reviewing the list of prohibited purchasers to maybe expand that list of prohibited purchasers," the vice president added. "Granted, only 60 percent of people who go for a purchase are doing it."
Biden echoed Obama's "round one" sentiment from yesterday, asserting that gun control supporters will win the fight in the long run.
Following the shooting in Newtown, Obama signed 23 executive actions aimed at curbing gun violence. They included addressing mental healthy and lowering barriers to effective background checks. This predictably did not elicit a positive response from conservatives, who felt the president was overreaching.
(h/t BuzzFeed)
Have a tip we should know? tips@mediaite.com