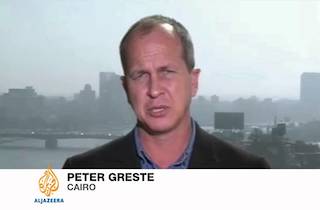 Australian journalist Peter Greste, one of four Al Jazeera employees arrested in Egypt over one year ago and convicted of spreading "fake news," expressed relief at being released after 400 days in captivity, but called for his jailed colleagues to be freed as well. Greste was released last week after lobbying from the Australian government.
"I feel incredible angst about my colleagues, leaving them behind," Greste told Al Jazeera on Monday. "Amidst all this relief, I still feel a sense of concern and worry. If it's appropriate for me to be free, its right for all of them to be freed."
Greste and three others were arrested as part of Egypt's crackdown on the Muslim Brotherhood and the press in general following the ouster of President Mohamed Morsi, and convicted during a "sham" trial that saw them kept in cages. One of the four was released after a hunger strike imperiled his health, but Mohamed Fadel Fahmy and Baher Mohamed remain imprisoned.
Greste described his release, which came without warning, and his guilt at leaving the others behind.
"There was a mix of emotion boiling inside," he said. "Sense of relief and excitement, but a stress of having to say goodbye to my colleagues. When you spend 400 days in such close proximity with people, you get to know them really well. It was a really difficult moment walking out and leaving the prison, saying goodbye to those guys, not knowing how much longer they will have to put up with this."
[h/t Al Jazeera]
[Image via screengrab]
——
>> Follow Evan McMurry (@evanmcmurry) on Twitter
Have a tip we should know? tips@mediaite.com