French Senate Votes to Extend 'Emergency Powers' for Three Months to Fight Terror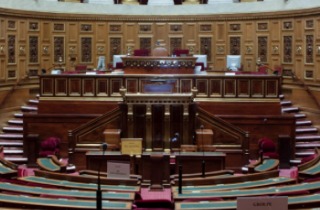 Ever since terrorists ravaged Paris in a series of attacks one week ago, President François Hollande has put France under "state of emergency" status in order to grant additional powers to law enforcement as they pursued the perpetrators and related terror cells. On Friday, the French Parliament gathered in session, voting unanimously to officially extend the government's powers for the next three months.
While French law only allows security services to have these powers for 12 days without authorization from the Senate, Wired reported that the vote will allow an expansion on crackdowns and investigations without as much judicial oversight. The government also plans to hold a special vote in the coming months that will look to strengthen anti-terrorism constitutional powers.
While these powers have already been put in action, the French government has been focused thus far on increasing security presence, combatting online promotions of violence, and launching raids like the one that caused the death of the attack's suspected mastermind. According to a report from The Guardian, the new measures will allow warrantless searches and seizure, and powers to immediately place suspects under house arrest and to dissolve organizations believed to pose a public threat.
French Prime Minister Manuel Valls spoke at the session, and said that though certain freedoms could be limited, the country is in a state of war and these measures show France's capacity to take action.
"We're enlarging the possibility to use it, not just for proven dangerous activities, but also for threats stemming from serious suspicions," Valls said. "It's the response of a strong, which does not bend and will never bend."
[image via wikimedia]
— —
Have a tip we should know? tips@mediaite.com