From The Mediaite Vault: First Season Promo Of The Mole Features Anderson Cooper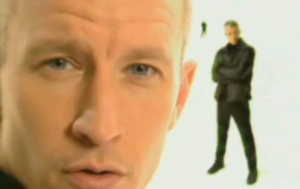 Welcome to the first installment of our summer series in which we head back into the Mediaite Vault (*cough* the Internet *cough*) to find some choice moments showing media personalities back when their journalism hit a little less hard. Consider it meeting the press before they were the press. First up, we watch Anderson Cooper channel his inner Derek Flint.
The time was January of 2001; humans were living in caves following the Y2K crash, the brand new HAL 9000 machines were all the rage, and a young anchor named Anderson Cooper decided to put his blossoming news career on pause to test out that "reality television" thing all the kids were talking about. Nowadays, reality TV shows are made up of all the footage that C-list celebrities have to cut from their sex tapes due to time contraints but, during the first few years of the last decade, the most popular shows featured an ethnically diverse cast of regular Joes and Joans talking smack about each other while competing in silly games for cash prizes.
The Mole, was a perfect example of this format except for one big hook. One of the contestants had a secret: They weren't actually a millionaire!
Oh wait…I mean their secret was that they were actually a CEO in disguise!
…No that's not it. Eh, who cares? All those shows are the same.
Anyway, the opening credits sequence below was taped only a couple years before Cooper got his regular gig on Anderson Cooper 360°. Coincidentally, 360° is just a little warmer than Cooper must have felt wearing his slick leather jacket and turtleneck combo. So check out this moment of fun from earlier in the career of one of CNN's big stars. The guy who brings the news every day to the millions of (or thousands of) people who watch CNN!
Enjoy:

Have a tip we should know? [email protected]